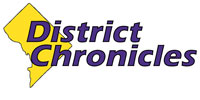 Post Classifieds
Catchings, Indiana beat Mystics at the buzzer, 61-59
By Freddie Allen
On August 8, 2011
Blacks want more in Black TV programs but they make do with current shows.
On Friday, July 29, when every Mystics' fan in the Verizon Center seemed content to take the game into overtime knotted at 59, Indiana's 5'2" point guard Shannon Bobbitt dashed those dreams, faking a pass and scoring on a wide open layup as time expired. The huge shot was Bobbitt's only field goal attempt of the entire game. It proved to be just enough to lift the Fever over the struggling Mystics for a 61-59 victory.
"We've been in every game, we just have to finish games," said Washington Mystics head coach Trudi Lacey.
Indiana's perennial all-star Tamika Catchings led her squad in points (16), rebounds (9), and assists (6) in a solid effort. Center Tammy Sutton-Brown finished with 12. Jessica Davenport and Katie Douglas each added 10 points to the final stat sheet.
"They're very smart from 1 to 11. Any mistake you make they make you pay for it," said Washington Mystics forward DeMya Walker. "It forces you to stay focused the entire possession. The moment you lose focus that's the moment they get you. I think that's what makes [Indiana] one of the best teams in the league right now."
The Mystics limped through July with 1-9 record, finishing the month on a four-game losing skid.
Coach Lacey attributed much of the Mystics' late-game struggles to growing pains, something that all great teams go through.
"Our young players are getting better. We're playing against teams that have been together 5, 6, 7 years," Coach Lacey said. "In close games, that makes a big difference."
"It's tough. Every game we're playing is close and we lost another one so it's really tough," said Mystics forward Crystal Langhorne.
Matee Ajavon and Langhorne combined to score all of Washington's points in the 3rd quarter. The Mystics went on an 8-3 run to open the 4th quarter taking a razor-thin lead on a slashing Ajavon layup.
"Matee really stepped up," said Walker. "She really gave that 'refuse to lose' attitude on the floor. And that's something that we need here."
Ajavon scored a game-high 19 points and Langhorne pitched in 17.
Ajavon hit a jumper to take a 59-57 lead. Jessica Davenport tied it up at the other end on a foul-line jumper of her own. Ajavon missed a fadeaway on a broken play with 18 seconds left in the fourth. Bobbitt's last-second layup sealed the deal for the heart-stopping win for the Fever.
"It's been hard, but we're gonna keep fighting and try to win some games," Langhorne said.
On Saturday, August 6 at 7pm, the Washington Mystics (3-14) take on Cappie Pondexter and the New York Liberty (11-8) at the Verizon Center. For more information about the Washington Mystics, visit www.washingtonmystics.com.
Get Top Stories Delivered Weekly
More districtchronicles News Articles
Recent districtchronicles News Articles
Discuss This Article