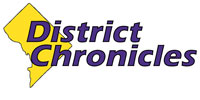 Post Classifieds
Early lessons learned: Beware of drugs, friends
By Caylon Thomas
On March 25, 2013
DC Mayor Gray and Police Chief Lanier announce the "brick it" anti cell phone theft plan. dc.gov
Zach was my middle school buddy. He and I were running around the middle school gym when he whispered into my ear.
"Hey, yo let's pop these pills after gym, so we can get really high." Instantly, my mind went into a state of joy. "Finally" I answered. "I was waiting for when you were ready."
The pills were Coricidin Cough, Cold, and Congestion - street named Triple Cs. I had swindled two packs of Triple Cs from Walgreen's Pharmacy the day before when my mother had taken me to the drug store to buy school supplies.
According to the Adolescent Substance Abuse Knowledge Base (ASK), about 9 percent of 12 to17 year olds have experimented with drugs. The most common age for adolescents to be introduced to drugs is 15. I was 12. This was my third time.
The first time I took Triple Cs, my head spanned out of control. My mind went into a state of remission. I couldn't focus on learning at all and that was fine by me for my intent on doing the drug was to let the school day pass by in a fog.
We each popped 16 pills. It was around 9 a.m.I can remember the elation it brought me to be breaking the rules and defying authority figures. It felt good to spite my parents who had a firm hold on my social life. I can have fun at school if they won't let me have fun at home.
According to Dr. Carl Pickhardt of Psychology Today, children who rebelled as I did aren't rebelling against their parents but against an identity. In my case, it was the identity that I was too young to go on a movie date by myself or I was too old to be having sleepovers at my friends' houses. Pickhardt says the best way to deal with adolescents at this age is patience.
After we took the Triple Cs, I made my way to second period English. I began to feel queasy but didn't worry about it. I had felt this way before after taking the drugs.
We had a spelling bee in class that day. I remember the word that knocked most people out was "couch." I spelled it right making it all the way to the last round, high as a kite.
By third period, I felt overwhelming pressure rising from my stomach. I made it to an empty garbage but some spewed dark red vomit onto the ground.Carter and Zach, too, threw up. Putting the facts the together, my teachers and principal knew I was a part of the crew taking the Triple Cs and I was summoned over the school speaker system: "Caylon Thomas to the principal's office please, Caylon Thomas to the principal's office."
The principal, Mr. Wilson, a big, bald headed, burly man of middle age, called my parents. I was caught. My father picked me up, shouting "Caylon, what the hell is your problem boy, why would you do this?" battering me with backhands to my face the entire ride home. I could do nothing but take the beating and hope my mother would be less hostile than my father.
My parents took me to the emergency room to have my stomach pumped. After I was done, I was as weak as I had ever been.A stern doctor walked in to check on me.
"If I were to ever return to his office, he would pump my stomach full of coal, stick a tube down my throat and suck all it out," he gruffed.
The next day brought more miseries. My parents took me back to school to face Mr. Wilson. "180 days suspension," Mr. Wilson ordered.
That was standard punishment for violation of "Consumption and Possession of Illegal Substances" in the Shelby County Public School District. That was enough to set me back a full year.I was out of school for three months before I was accepted into Renaissance Alternative School - a huge step down from the posh suburban public school I was accustomed too.
This life lesson I am glad I learned at a young age because those same mistakes I made as an eighth grader, I could be making today at Howard University.
Get Top Stories Delivered Weekly
More districtchronicles News Articles
Recent districtchronicles News Articles
Discuss This Article