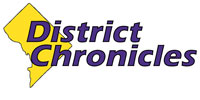 Post Classifieds
Howard graduate student battles lupus
By Radiah Shabazz
On December 10, 2012
Rankin's struggle with lupus started in high school and she chronicles it on her blog. Courtesy of Kamila Rankin
She nearly didn't make it out of high school, but Kamila Rankin is in her third year doctoral program in school psychology at Howard University. It all started in 2005 when Rankin was a 17-year-old senior in high school at Vance High School in Charlotte, North Carolina. Right after her Delta Debutante Hall, unexplainable excruciating pain evaded her body.
"I was in pain all over," she said. "It was like every muscle in my body ached. It felt like I had run a marathon, but in actuality I hadn't."
Aching sores in her mouth followed about 3 to 5 days after the onset of her body aches, stopped her from eating.
"The doctors diagnosed my ailment as proteinuria, a urinary tract infection that causes an afflicted person to have protein in the urine. The doctors prescribed antibiotics. "
But the symptoms got worse. Hair started thinning and falling off her head. A few months later, Ranking lost the ability to walk. Her body was shutting down on her.
Rankin's mother took her to a rheumatologist, Dr. Bruce Hill. Dr. Hill narrowed Rankin's illness down to two very serious possibilities: lupus or AIDS.
Blood work and tests confirmed Dr. Hill's suspicions - Rankin had Systemic Lupus Erythematous, known simply as lupus, an unpredictable and complex autoimmune disease that causes inflammation of body tissue and organs with life-threatening consequences.
"That was my senior year, March 2006, around the time of spring break," she said.
That was the time when Rankin was preparing to go to college -- University of North Carolina, Greensboro, where she graduated in 2010 with a degree in psychology and a minor in social work.
Dr. Hill put Rankin on two medications: Plaquenil, a medication typically used to treat rheumatoid arthritis, and Prednisone, a steroid used to treat inflammatory diseases, including severe allergic reactions.
Her life became anything but normal. "I had to adjust from having a normal life to one that forced me to take medication daily at prescribed times. It was a big challenge," Rankin described the ordeal. "In an instant, my whole life changed. I went from being a carefree teenager to one who was concerned with whether I was going to make it to the next day. I had never taken medication daily. I never had to deal with the idea of being on medication for the rest of my life."
According to the Lupus Foundation of America, the nation's largest organization dedicated to finding a cure for the disease, lupus is a difficult illness to understand and diagnose. The disease is known as "the great imitator" because its symptoms often mimic those of other diseases, such as rheumatoid arthritis, blood disorders, and fibromyalgia. Abnormalities in urinalysis can also make it appear as if the lupus victim has a urinary tract infection instead.
The foundation also reports that approximately 1.5 million people in the United States and over 5 million worldwide suffer from some form of lupus. Ninety percent of the disease's victims are women and is often diagnosed between the ages of 15-44. Lupus also disproportionately affects more women of color than it does White women.
"As an African American woman, my hair is very important to me," she said. "So losing it, even if it's just for a few months, is distressing."
Through it all, Rankin is sporting a 3.95 on a 4.0 scale GPA in her Ph.D. program at Howard. Rankin proudly shares that her professors love her and many have commented on how they admire her tenacity and strength to keep pressing toward her degree. But her journey has been a difficult one.
Her frustration is that the disease will cause her grades drop to Bs and Cs.
Rankin chronicles her journey with lupus on her personal blog, lifewithlupus-kami.blogspot.com, where she discusses her life as a graduate student battling the debilitating effects of lupus. The blog chronicles Rankin's day-to-day struggles, while also providing hope by showing that it is possible to overcome such a vicious disease.
"Without lupus, I would have never imagined myself being this strong, resilient, and determined," she said. "Getting this PhD is paramount to me being able to provide myself the best medical care in the future. Also, having lupus and still being able to press on toward my dreams is not something that I take for granted. But having lupus has made it possible for me to be able to think bigger than myself."
Get Top Stories Delivered Weekly
More districtchronicles News Articles
Recent districtchronicles News Articles
Discuss This Article