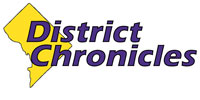 Post Classifieds
Dupree scores 27, Phoenix defeats the Mystics, 86-79
By Freddie Allen
On September 5, 2011
Phoenix G No. 2 Temeka Johnson beats Mystics C No. 21 Nikki Anosike on the baseline. Freddie Allen/DMVAS/District Chronicles
The Phoenix Mercury shot more than sixty percent in the 1st quarter and held off a late, fourth quarter Mystics' rally to take the 86-79 win at the Verizon Center. Washington's woeful free throw shooting hurt the team down the stretch.
"It's the little things that make the difference," said Mystics head coach Trudi Lacey. "Tonight it was our free throws. We went 9 for 20 from the free throw line, and if we make our free throws, it's a different game."
Phoenix made 18-of-19 from the charity stripe. Mercury forward Candice Dupree hit all 7 of her free throws and scored a season-high 27 points. Diana Taurasi scored 21 and dished 7 assists.
Phoenix jumped all over the Mystics to start the game and led 13-3 midway through the 1st quarter.
"In a nutshell, it's been a pattern here the last 6 or 7 games. We get off to a really slow start," Lacey said. "Our mindset defensively has to be a lot better coming out of the gates. We use a lot of energy to get back into the game."
Washington rookie guard Jasmine Thomas scored 14 points off the bench, playing huge minutes. For Lacey, it's about Thomas getting "on the job training" that she can build on next season.
Washington forward Crystal Langhorne continues to be the team's go-to player scoring 27 points and pulling down 12 rebounds. Matee Ajavon added 15 on 6-for-17 shooting.
The Phoenix lead ballooned to 22 in the third, before the Mystics started digging their way out of the hole. The Mystics managed to outscore the Mercury in the fourth, but couldn't close the gap.
On Tuesday, August 30 the Mystics lost to the Minnesota Lynx (73-56) on the road.
On August 31, Coach Trudi Lacey announced that forward Monique Curry will make her season debut Thursday, September 1 at the Verizon Center after completing successful rehab on a knee injury she suffered playing in Turkey in the offseason.
The Washington Mystics (5-24) play their final home game of the season on Sunday, September 4 when they take on Tina Charles and the Connecticut Sun (18-12). For more information about the Washington Mystics, visit www.washingtonmystics.com.
Get Top Stories Delivered Weekly
More districtchronicles News Articles
Recent districtchronicles News Articles
Discuss This Article