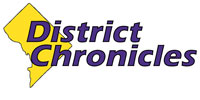 Post Classifieds
Howard falls to Bethune-Cookman at Burr, 73-67
On February 19, 2012
Howard freshman G No. 5 Simuel Frazier drives to the basket against a BCU defender. Frazier finished with 14 points and 4 assists. Freddie Allen/DMVAS/District Chronicles
On Monday, February 13, Bethune-Cookman jumped out to an early 7-0 lead to start the game and never looked back, defeating Howard University, 73-67, on their home court at Burr Gymnasium.
The Wildcats exploited gaping holes in Howard's defense all night long, breaking down the Bison guards and getting wide-open jumpers and looks in the lane.
"They have seniors that know how to play and create mismatches in space," said Howard University head coach Kevin Nickelberry speaking on Bethune-Cookman's veteran leadership.
The Wildcats took a 37-29 lead into the halftime break.
Bethune-Cookman went up by 13 late in the second half, before the Bison went on a run to cut the lead to three (63-60).
Howard senior guard Glenn Andrews sparked the run hitting two triples with less than 90 seconds to play. Andrews scored a team-high 15 points.
Howard freshman guard Simuel Frazier finished with 14 points, 4 assists and 3 rebounds.
"He's a tough kid," said Coach Nickelberry talking about Frazier after the game. "He's gonna be a special point guard."
Bethune-Cookman's junior guard Kevin Dukes poured in 19 points and dished out 5 assists. Anthony Breeze pitched in 12 and Adrien Coleman and Javoris Bryant each scored 11 for the Wildcats in the win.
Working against the clock, Howard was forced to foul to stay in the game. Bethune-Cookman scored their last 11 points from the free throw line.
"We played hard in the second half," said Coach Nickelberry. "We need to play that hard for forty minutes."
The Bison return to Burr Gymnasium February 20 in their last home game of the season to take on University of Maryland Eastern Shore. Freddie Allen/DMVAS/District Chronicles
Get Top Stories Delivered Weekly
More districtchronicles News Articles
Recent districtchronicles News Articles
Discuss This Article