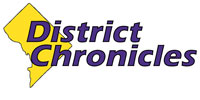 Post Classifieds
Metro Brief: 11th Street bridge work completed
On January 1, 2012
Officials celebrated the completion of the freeway bridges over the Anacostia river. ddot.dc.gov
City and government officials recently celebrated the completion of the new 11th Street Freeway Bridges over the Anacostia River. The two new freeway bridges will provide a seamless connection between the Southeast/Southwest Freeway and the Anacostia Freeway (I-295/DC 295).
"This $300 million project – the largest DDOT has ever undertaken – is ahead of schedule and represents a giant step forward for our transportation system," said Mayor Gray. " Critical for connecting one city across the Anacostia River, these new spans will serve our residents, workers and visitors for decades to come."
A third bridge for local traffic – connecting Anacostia to Capitol Hill – is still under construction and is scheduled to be completed in the summer of 2012. The local bridge will have a shared path for pedestrians and bicyclists and space for future transit.
The closure of the existing inbound bridge will also allow workers to complete connections to 295 that are missing from the current 11th Street bridges:
A ramp connecting outbound traffic on the bridge to northbound 295, and a ramp leading from southbound 295 to the inbound bridge These new ramps are scheduled to open next summer as well.
The existing outbound 11th Street Bridge will continue to be used for local traffic headed into Anacostia, until the new local bridge is completed in 2012. To access Anacostia from the SE/SW Freeway, motorists can use one of the following detour routes:
Continue on the new outbound freeway bridge to southbound I-295 and exit at Howard Road.
Take the 6th Street exit off the SE/SW Freeway. Go straight on Virginia Avenue, right on 8th Street to M Street, left on M and then right on 11th Street to access the outbound bridge.
The 11th Street Bridge Project is one of the major infrastructure improvements included in the Anacostia Waterfront Initiative – a multi-agency effort currently underway to restore and revitalize the Anacostia River and its waterfronts.
DDOT began construction on the 11th Street Bridge Project in December 2009 to replace the two existing bridges with three new bridges and improve the related interchanges. Close to 400 workers are working on the project each day, including many District residents.
The new bridges are projected to carry almost 180,000 vehicles per day by 2030, and will also serve as an improved emergency evacuation route from the nation's capital.
A second phase of work is scheduled to begin in 2012 and is expected to be completed in 2015.
Get Top Stories Delivered Weekly
More districtchronicles News Articles
Recent districtchronicles News Articles
Discuss This Article