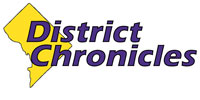 Post Classifieds
Metro Brief: Ward 8 public housing tenants win victory over DC Housing Authority
District of Columbia
On November 9, 2012
Pondexter-Moore and other Ward 8 residents fought and won the battle against the DC Housing Authority to secure the Highland Dwellings units (pictured) as public housing years to come. maps.google.com
Back in 2010, Schyla Pondexter-Moore, a Ward 8 public housing resident and mother of four, became fearful for her community when the DC Housing Authority informed tenants that Highland Dwellings would be undergoing "complete, substantial, modernization" and everyone on the property would have to move - quickly.
After researching Hope VI and finding out about the scope of displacement under the program, Schyla took action and founded the organization Highland Together We Stand. She also filed a suit against the DC Housing Authority. On October 9, after a year and half of back and forth litigation, the Authority agreed to a settlement, which presiding Judge Joan Zeldon called "unchartered territory," and which secures two major victories in the fight to preserve public housing.
The settlement allows Highland Dwelling to remain a public housing property for 40 years.
Now working as an affordable housing organizer for the community-based organization Empower DC, Schyla is taking her message to other public housing communities throughout the District.
"You can fight back," she says. "You can save your housing. You have rights. Look at what we did at Highland. You can do that too, and Empower DC is here to help."
The number of public housing units in Washington, DC has been drastically cut over the years. Where there used to be at least 20,000 units of public housing, there are now only about 8,000. Public housing complexes have been demolished and redeveloped without providing the often-promised one-for-one replacement of public housing units on the properties. Properties such as Valley Green, Arthur Cappers, Frederick Douglass, Stanton Dwellings, Parkside, Temple Courts, Sheridan Terrace, Ellen Wilson and more, most of which are located in Wards 7 & 8, have been demolished and redeveloped for private use.
The 208 units at Highland Dwellings will remain for public housing after renovations. There can be no new criteria set forth that are not applicable to public housing regulations. For example, tenants cannot be asked to pay utilities, pay more than 30% of their income, meet minimum income requirements, undergo credit checks, or other such provisions which have been common in other redevelopment projects and present clear barriers to public housing tenants returning after modernization.
"We fought a good fight," said Renee Patterson, another plaintiff in the case. "Housing knew what they did was unjust and a lot of wrong doing. Myself and other tenants in Highland Dwellings fought back and now I can say justice was served."
Schyla added: "Unfortunately, many residents do not know their rights and are intimidated by the Housing Authority. My organizing efforts concentrate on making sure people feel informed and empowered to advocate for themselves within public housing."
Get Top Stories Delivered Weekly
More districtchronicles News Articles
Recent districtchronicles News Articles
Discuss This Article