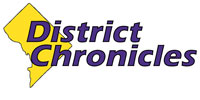 Post Classifieds
Norton urges D.C. students to apply to service academies on the eve of historic Army-Navy Game
On December 12, 2011
Norton spotlights Dunbar HS grads who played in the 1949 Army-Navy game.
Congresswoman Eleanor Holmes Norton (D-DC) and Commander Kerwin Miller, USN SN (Ret), the chairman of Norton's Service Academy Nominations Board, hope to encourage D.C. students to apply to the service academies by highlighting the story of two Dunbar High School graduates who are marking the 65th anniversary of their meeting on the field of the 1949 Army-Navy football game at the annual storied game this weekend. The Cadets of the U.S. Military Academy (USMA) at West Point play the Midshipmen of the U.S. Naval Academy (USNA) at FedEx Field in Landover, Md., on Saturday, December 10, 2011, at 2:30 p.m. There is no other college football game with deeper foundations or greater prestige.
For two African-American graduates of Dunbar High School, the game will bring back memories of their lives at West Point and the Naval Academy, and the enduring rivalries during the Army-Navy games while they were students, when few African-Americans attended the academies. At the 1946 Army-Navy game, at the former Municipal Stadium in Philadelphia, the two were sophomores who exchanged one of their official West Point and Naval Academy cufflinks with each other at the game.
Col. Edward B. Howard, USA (Ret.) graduated from Dunbar High School, America's first high school for black students, in 1943. He was a co-valedictorian and Cadet Colonel and Regimental Commander of the Washington High School Cadet Corps. Col. Howard attended Dartmouth College in Hanover, N.H., for two years prior to being admitted to West Point with the class of 1949. Col. Howard graduated from West Point in June 1949 and spent a successful career in the U.S. Army Signal Corps before his military retirement.
Lt. Cmdr. Wesley A. Brown, USN (Ret.) graduated from Dunbar High School a year later, in 1944, and succeeded Col. Howard as the Cadet Colonel and Regimental Commander of the Washington High School Cadet Corps before attending Howard University for one year prior to being admitted to the Naval Academy with the class of 1949. Lt. Cmdr. Brown became the first African-American graduate of the Naval Academy, graduating in June 1949. In May 2008, Lt. Cmdr. Brown was honored with the dedication of a new, $52 million field house at the Naval Academy in his name. The Wesley A. Brown Field House is the only building at any of the Military Service Academies to be named after an African-American Military Service Academy graduate.
Norton wanted to highlight these two highly accomplished individuals to stress the qualities her Service Academy Nominations Board looks for when selecting her Service Academy recommendations. Col. Howard and Lt. Cmdr. Brown are two of the three longest living African-American Service Academy graduates, and they will both be attending the Army-Navy game with their families. Their 1946 cufflinks will also be available for display.
Get Top Stories Delivered Weekly
More districtchronicles News Articles
Recent districtchronicles News Articles
Discuss This Article