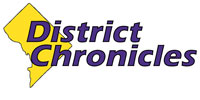 Post Classifieds
Shirley Chisolm more than just a postage stamp
By Dr. E. Faye Williams, Esq.
On February 17, 2014
Chilsom made strides in her political career, she even ran for President nomination in 1972. funkydineva.com
(TriceEdneyWire.com) - Some years ago, I visited the House Congressional Post Office to purchase Black Heritage Stamps. I made my request, and the clerk indicated he'd have to "check in the back" to get them. When I asked why there were none at the counter, he said they didn't keep them out front because some people are offended when they receive Black stamps without requesting them. Needless to say, his response was shocking and has caused me to request Black stamps always thereafter.
On Friday, January 31, 2014, I was privileged to be in Brooklyn, NY, to attend the issue ceremony for the stamp commemorating the service of the Hon. Shirley Chisholm. This beautiful ceremony was a fitting tribute to the memory of an esteemed Black woman, held in the District she represented for seven terms.
She began her political career in 1964 as a member of the NY State Legislature. In 1968, she defeated Republican James Farmer for the 12th Congressional District seat and became the first Black woman elected to Congress. In 1971, she became a founding member of the Congressional Black Caucus, and later became the founding chair of the organization for which I now serve as Chair.
Chisholm secured an assignment to the Education and Labor Committee which gave her the opportunity to provide the greatest service to her district. She knew how much her constituents needed education and jobs. She worked tirelessly to improve the prospects for both.
Throughout her service in Congress, she worked tirelessly to improve opportunities for inner-city residents. Recognizing its disparate impact, she vigorously opposed the Vietnam War and the military draft. She saw the greater good of ending the war and diverting significant portions of the military budget to constructive social services, healthcare and education.
She was a feminist of the practical order. While she was acutely aware of the elements of racial discrimination, she had a great concern about addressing elements of sex discrimination. Rejecting racial and gender stereotypes, all of the members of her congressional staff were women and 50 percent of them were African American.
In 1972, Chisholm declared her candidacy for President of the United States. Doing so, she became the first Black major-party candidate for president and the first woman to run for the Democratic Party nomination. Ultimately, she acknowledged that her campaign for the nomination would be unsuccessful, but stated that "in spite of hopeless odds," her run was being conducted "to demonstrate the sheer will and refusal to accept the status quo."
Although she didn't receive her party's nomination, she did receive 152 first-ballot votes at the 1972 Democratic National Convention. The support she was able to engender through her campaign gave her more leverage in party policy decisions and gave her a national platform from which she could articulate her beliefs.
In 1982, she announced her retirement from political office, after which she returned to a career in education. She taught politics and women's studies at Mount Holyoke College and also served as a visiting scholar to Spelman College.
Although retired, she didn't remain absent from politics. In 1984 and 1988 she supported the presidential campaign of the Rev. Jesse Jackson, as well as my 1986 congressional campaign.
From the mid-90s to her death in 2005, declining health negatively impacted her activities, but we've been blessed with her reflections in two books. Her book "The Good Fight" and the expanded 40th anniversary edition of her 1970 "Unbought and Unbossed" give great insight into the character of this great woman.
Reflecting on the accomplishments and legacy of Shirley Chisholm, I wonder if any clerk at any U.S. Post Office would now have the temerity to suggest a justification for the absence of her commemorative stamp on full display.
Dr. E. Faye Williams is Chair of the National Congress of Black Women, Inc. She can be reached at 202.678.6788 or www.nationalcongressbw.org.
Get Top Stories Delivered Weekly
More districtchronicles News Articles
Recent districtchronicles News Articles
Discuss This Article