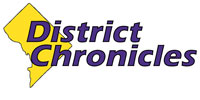 Post Classifieds
Economic burden of student loans can change
By Lezli Baskerville, Esq.
On July 22, 2013
At 5:00 a.m., careful not to wake her daughter and two sleeping grandsons, Helen gets dressed for the morning shift at a D.C. hotel kitchen.
"My supervisor is a kid. I hate it, but this job is all that's keeping us from moving back to the shelter," Helen told me, adding that, if they get lucky, her daughter Erika might earn a little extra, braiding hair in between caring for the boys and applying for work.
Helen once had high hopes that Erika, her youngest child, would become the first college graduate in the family.
But with the burden of more than $20,000 in defaulted student loan debt and fees, the prospects that her daughter will ever return to finish her degree are bleak.
It's the story of Helen's family, and millions more like her.
The constricting economic burdens created by excessive student loan debt, not only prevents young people from building wealth, it spirals outward in concentric circles ensnaring parents, children, grandchildren, strangling the economic growth of entire communities.
Student loan debt now exceeds $1 trillion, and not surprisingly, African Americans and other underserved minority students are disproportionately affected.
According to the Center for American Progress, 81 percent of African Americans borrow money at higher interest rates than their peers, which creates greater financial vulnerability. More than 13 percent of students whose loans came due in 2009, defaulted within three years for non-payment, a situation exacerbated by high unemployment, a struggling economy, and the effects of the Great Recession.
The higher the percentage of lower income students enrolled and persisting in an institution, the higher its federal funding level. The national goal is, after all, moving more of the growing populations to college completion.
What if conflicting public policies were eliminated? For example, the cost of incarceration is $26,000 yearly per inmate. The tuition rates at the historically Black Morgan State University are $17,000 and $25,000 respectively for in-state and out-of-state students, and represent positive cash flow to the state. Across the spectrum, the cost of attaining a degree at a public Historically Black College or University (HBCU) is $2,500 less per year than at a public Historical White College or University (HWCU), and $10,000 less per year at a private HBCU than a private HWCU, according to The College Board.
If we are to meet President Obama's national goal of graduating 60 percent of Americans with a two or four-year degree by 2020, an estimated two million additional African-American students must be educated. HBCUs will need to increase the number of graduates per year from 35,000 to more than 57,000.
We must reform the Pell Grant program to require notification of likely Pell Grant eligibility to middle school student families participating in needs-based federal programs e.g., free/reduced lunch.
We must devise an automatic income-based repayment (IBR) plan for student loans by which borrowers can make payments through employer withholding. If a student were unemployed, there would be no obligation to pay. If a student loan borrower must file for bankruptcy the code should be changed back to permitting privately issued student loans to be dischargeable.
We must cap student and parent loan interest rates on subsidized Stafford Student Loans, Parent Plus Loans, and other government education loans at no more than 2 or 3 percent to remove the twin obstacles of high interest rates and prohibitive student debt. This will assist 7.4 million student and parent borrowers.
We must incentivize governors, state legislatures, and municipalities to establish Promise Communities in which endowments would be established and funded by a percentage of the regular expenditures of residents e.g., utility and grocery bills. The endowment would fund the cost of a four-year public education for qualifying low-income students. This concept has achieved successful outcomes in several states.
A bold agenda? Absolutely. If the lessons of the 1960s teach us anything, it is that real progress is not built on cautious compromises. We must begin a movement on behalf of Black and brown, low-income, first generation students.
Lezli Baskerville, Esq. is president/CEO of the National Association for Equal Opportunity in Higher Education (NAFEO). This articles the 19h of a 20-part series written to commemorate the 50th Anniversary of the Lawyers' Committee for Civil Rights Under Law.
Get Top Stories Delivered Weekly
More districtchronicles News Articles
Recent districtchronicles News Articles
Discuss This Article