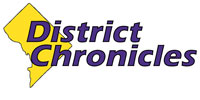 Post Classifieds
Media hurdles: Coverage of 'Gabby' less than sensitive
By Ronda Racha Penrice
On August 20, 2012
Gymnast Douglas (16 yrs) made Olympic history but got more flack about her hair. Courtesy of The Atlanta Voice
Every four years, the Summer Olympics give Black athletes several opportunities to shine on the world stage, though it's generally in basketball or track and field. For the 2012 Olympics in London, 16-year-old gymnast Gabrielle Douglas has changed that.
Not since Dominique Dawes exploded on the scene in 1992 has a Black gymnast earned so much popular attention. Dawes competed in three Summer Olympics, winning a bronze medal with her team for the 1992 and 2000 Olympics in Barcelona and Sydney and, of course, the team gold and a personal bronze at the 1996 Olympics here in Atlanta.
Unlike Dawes, whose name already was familiar to many Americans before the Olympics, Douglas seemed to come out of nowhere. Before London, most Black people had never heard of her or seen her. Becoming the first Black woman to win the gold in all-around gymnastics has made her an overnight celebrity.
Being in the spotlight, however, hasn't proven easy for the girl affectionately known as Gabby - or "Golden Gabby" these days.
First, there was the controversy that erupted after NBC ran a promotional ad - for its upcoming comedy, "Animal Practice" - featuring a monkey on gymnastics rings - right after a commentary about Gabby's historic feat. NBC later issued a statement claiming "no offense was intended."
Before that, NBC had run a segment featuring one-time heavyweight boxing champ and Atlanta's own Evander Holyfield without mentioning that he was not just a tourist in London, but actually a medal-winning Olympian (Holyfield won bronze in the light heavyweight division at the 1984 Summer Olympics).
These offenses clearly point to the need for greater diversity behind the camera. While Black NBC talent Al Roker and Tamron Hall are both in London, which has exclusive rights to the 2012 Olympics, apparently there aren't a lot of Black people behind the scenes.
Surely, any Black person behind the camera would have known that - given the history of comparing Black people to monkeys - the "Animal Practice" ad was not appropriate to run after a report of an unprecedented African-American achievement. And, certainly, they would have recognized Holyfield as a former Olympian.
Even more worrisome are the comments on Twitter about Douglas' hair. Apparently, there is a contingent of Black people who care more about Gabby's hair than her historic accomplishments.
Their negativity struck such a strong nerve that 11 Alive's nightly broadcast featuring Brenda Wood linked tweets in the vein of "I love Gabby Douglas, but I'm mad at whoever keeps letting her wear that half wig and that silky ponytail on the back of some nappy hair" to the Bronner Bros. International Hair Show, asking attendees to weigh in on Gabby's hair.
Unfortunately, many news outlets have picked up on the story and some on Twitter expressed concern that the controversy distracted Douglas, resulting in her medal-less performances in individual competitions like the balance beam.
The women of track and field didn't appear to have Gabby's hair problems. In fact, it was obvious that many spent quite a bit of time getting their hair and nails done whether they came from Jamaica or Cote d'Ivoire. Even American hurdler Kellie Wells, the Hampton University alum who won the bronze medal in the 100-meter hurdles, received some Twitter flack for the blue patch in her hair.
The other disturbing story is the debate surrounding Dawn Harper and Lolo Jones. Harper, who won the silver medal in the 100-meter hurdles and the gold when Jones fell at the 2008 Olympics, has not generated half the media attention of Jones, who has no medal at all. Many attribute this to the fact that Jones, who has a White mother and a Black father, has the look long favored by the mainstream media.
At the end of the day, the 2012 Olympic coverage and our reaction to it only reveals that our problems don't disappear every four years. Medal or no medal, there is still a huge divide in mainstream attitudes about - and sensitivity to - African Americans. And that's not just a hurdle Black Olympians have to clear.
Get Top Stories Delivered Weekly
More districtchronicles News Articles
Recent districtchronicles News Articles
Discuss This Article