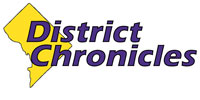 Post Classifieds
Metro Brief: Michael Baisden on board to help Black and Missing Foundation
Prince George's County
On September 27, 2011
Baisden will now feature missing minority children on his show and website. centrictv.com
Michael Baisden, motivational speaker, best selling author and host of nationally syndicated Michael Baisden Radio Show, is now partnering with Black and Missing Foundation Inc (BAM FI) in a nationwide effort to help find and bring attention to the thousands of missing children of color.
Profiles of missing African-American, Hispanic and Asian children will be announced on air daily as well as appear weekly on Baisden's Web site and social media outlets. The profiles will be provided from BAM FI database and will be accompanied by information on the missing children.
Reports show that 2,000 children are reported missing to local law-enforcement daily. Of those children who are abducted, females, aged 11-17, are most likely to be victimized; and minority children equaled 65 percent of the total non-family abductions (42 percent were African American and 23 percent were Hispanic).
"It was upsetting to me that whenever I heard about a missing child on the national news shows it was rarely a child of color," said Baisden. "African-American, Latino, and Asian children go missing everyday, but you would never know it with the lack of coverage they get."
"The number of minority children among missing children is astronomical," said Derrica Wilson, President and CEO of Black and Missing Foundation Inc. "We are so pleased Mr. Baisden has committed to help find missing children of color by posting their photos on his sites and encouraging his over six million listeners across the country to join the search by looking at the faces of missing children from their area."
BAM FI is a non-profit organization offering a free clearinghouse, which highlights profiles and information on missing persons of color, nationally.
For additional profiles, news and information, follow BAM FI on Twitter@BAM_FI or friend the group on Facebook at Black and Missing Inc.
Get Top Stories Delivered Weekly
More districtchronicles News Articles
Recent districtchronicles News Articles
Discuss This Article