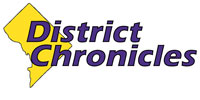 Post Classifieds
Dunbar Launches Summer Basketball League
By James Wright
On July 3, 2003
When Dunbar High School boys basketball coach Lorenzo Roach was a student at Dunbar, he could not wait for the summer. Not only was school out, but summer league basketball was underway.While Roach enjoyed playing in the league at Georgetown's McDonough Arena, he always looked to play "Urbo Ball." "Urbo Ball," which was the Urban Coalition Summer League based at Dunbar, featured some of the finest basketball players in high school, college and the pros.
Urban Coalition basketball is gone. But, Roach, a go-getter and self-starter, decided to do something about it: he formed his own league.
For the next few weeks, summer league basketball fans can go by the northwest school to look at the new Coach "Zo" Roach's P.L.D. High School & College/Pro Summer Basketball League. The games started on Saturday, June 21 and will run through the summer.
"Things are pretty okay," said Roach, smiling as he watched a team compete.
On Sunday, June 22, at the 11 a.m. game in which his Tiders, as in Dunbar Crimson Tide, played team "3" (H.D. Woodson), Roach coached his team and kept an eye on operations.
The gym has several fans and some members of the D.C. police department. The concession stand featured hot dogs, sodas, bottled water and potato chips, sold on behalf of the Dunbar boys basketball team.
Plans are in the works to include pizza on the menu.
Robert Boone's team, "3" lost to the Tiders. While he was upset about losing the game, he nevertheless endorsed the league.
"This league is going to be pretty good," said Boone, a rising senior point guard. "This will help me improve my skills and to become a better player."
Other schools that have teams in the league are Riverdale Baptist, Cardozo High, M.M. Washington, and the Enterprise Charter School. The coaches of the teams are friends of Roach's, and want to see him succeed.
There are three high school games played and four college/pro games each day.
Former Washington Wizard David Vanterpool, who played in the 12:15 game, also spoke highly of the young league.
"I am a ball player, and wherever I can find a game, I will go," Vanterpool said. Vanterpool played in Italy this past season and is looking to get back with an NBA team. "I workout everyday, but it really helps to have games and teams to compete against."
To keep in line with the youth culture, Roach has music from Jay-Z blaring from a small music box while the players from the next game are warming up.
"I want to keep some traditions of Urbo ball going and music was one of them," Roach said.
One of Roach's star pupils, University of South Carolina-bound point guard Tre Kelley, played in the game after Vanterpool's. Kelley, a basketball enthusiast, looked forward to playing in the league.
"Coach did not have to persuade me to come out, I just did,"Kelley said. "I'll be leaving here in a few weeks, so I'm trying to get as much practice as possible."
Kelley plays for DC Assualt, the adult version of the high school AAU team he played. Other colorfully named teams are Madness (as in Madness Connection store sponsor), Bump & Run, We R One, Keystone Ins, AWA, All-Daz, Mo'County All-Stars.
Even though the basketball play is good, it lacks the intensity of the Urban Coalition. During Urban Coalition, when someone dunked, the fans reacted wildly by dancing and pointing to the dunker. Three-point shots were greeted with a sound, "Whoosh", and claps.
Celebrity college and pro players were given preferential treatment in terms of playing time and handling the ball. The rationale was that Urban Coalition ball was entertainment, and that the fans should enjoy themselves.
As the league develops, Roach hopes to have marquee college players drop by and some pros to participate. In time, Roach hopes that the city's summer basketball fans will come see his league instead of the one at Georgetown run by Jeff Brooks.
However, the past weekend was the first, and the interest is likely to grow. The most important thing is for the players to get in some time and the fans to enjoy themselves.
"I love basketball," said Yagood Thurston, a rising junior point guard, "and Coach Roach's league gives me the chance to work on my skills. And, we like to win, too."
Contact James Wright at district_chronicles@hotmail.com
Get Top Stories Delivered Weekly
More districtchronicles News Articles
Recent districtchronicles News Articles
Discuss This Article