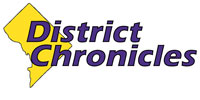 Post Classifieds
Public Invited to Win Prizes and Get Commuting Information on Car Free Day
Montgomery County
On September 20, 2011
To celebrate International Car Free Day, Montgomery County Commuter Services (MCCS) staff will be holding prize drawings and providing information on transportation options at the Silver Spring, Bethesda, Twinbrook and Friendship Heights Metrorail stations between 6:30 and 9:30 a.m. on Thursday, September 22. Participants will be eligible to win a $200 SmarTrip Card, a Kindle 3G with Wi-Fi, and promotional items, including discount coupons to local retailers.
International Car Free Day is an annual, worldwide event that encourages the public to find alternatives to using cars or reduce the amount of driving they do. Using transit, biking, and walking – instead of driving – reduces noise, pollution and stress.
"People throughout the region are re-evaluating their relationship with the car," said Montgomery County Department of Transportation Director Art Holmes. "This is great news for transit, biking, and other modes – and great news for the environment. I encourage everyone to try transportation alternatives that will help us relieve congestion and the stress of commuting."
MCCS, in cooperation with the Metropolitan Washington Council of Governments (MWCOG), urges everyone who possibly can to pledge to go car-free or car-lite for the day at www.carfreemetrodc.com. Pledge participants are eligible for drawings for additional prizes through MWCOG,including an iPad.
MCCS offers assistance in finding "Better Ways to Work," not just on September 22, but year-round by walking, taking transit, carpooling, vanpooling, biking or teleworking. Check the County's website at www.montgomerycountymd.gov/commute.
Montgomery County provides and promotes a comprehensive and balanced transportation program that includes a wide variety of alternative transportation options for residents, businesses, employees and visitors. The County promotes these effective and efficient solutions to reduce pollution and transportation costs, help address climate change concerns, and ensure the economic and environmental vitality of the community.
For more information about transportation options in the County, contact Commuter Services at www.montgomerycountymd.gov/commute or call 240-773-2989. Those traveling near downtown Silver Spring or Friendship Heights can stop in at the County's TRiPS Commuter stores, located at 8413 Ramsey Avenue in Silver Spring and 17 Wisconsin Circle in Friendship Heights. Both stores are located within a short walk of Metrorail stations, sell transit fare media, and provide a variety of personalized assistance with transportation alternatives.
Get Top Stories Delivered Weekly
More districtchronicles News Articles
Recent districtchronicles News Articles
Discuss This Article