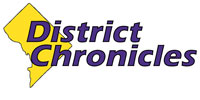 Post Classifieds
Afro Blue Scores Big on Sing Off; Passes First Hurdle
On September 20, 2011
Catholic bishops are not happy about specifics in Paul Ryan's budget, like proposed cuts in benefits for children of immigrants. reuters.com
WASHINGTON – Afro Blue, Howard University's award-winning vocal ensemble, made it through the first round of the NBC hit a cappella talent show series The Sing-Off. They were one of eight contestants for the show's Sept. 19 premiere.
The second batch of eight contestants will perform Sept. 26.
Nick Lachey hosts the series, with returning judges Ben Folds and Shawn Stockman alongside singer Sara Bareilles, who is replacing Nicole Scherzinger.
The winning act will score $200,000 and a recording contract with Sony Music.
Afro Blue, which was formed in 2002 by Professor Connaitre Miller, has performed around the world and received six Downbeat music magazine awards, including Best College Jazz Group, Outstanding College Jazz Choir, Best College Jazz Arrangement and Outstanding College Jazz Soloist.
The group has recorded two CDs, "It's a Matter of Pride" and "Freedom in Song."
Their performance was broadcast and and members of the group were previewed on a number of television programs. See the video links below:
Afro Blue Performs on Sing Off
http://www.howard.edu/newsroom/newsclips/individualpages/20110919SingerDanielleWithersDiscussesAfroBlueandSingOff2.htm
Afro Blue Singer Danielle Withers Discusses Group and Sing Off Contest
http://www.howard.edu/newsroom/newsclips/individualpages/20110919SingerDanielleWithersDiscussesAfroBlueandSingOff.htm<http://www.howard.edu/newsroom/newsclips/individualpages/20110919SingerDanielleWithersDiscussesAfroBlueandSingOff.htm>
Afro Blue Singer Featured in Her Hometown
http://www.howard.edu/newsroom/newsclips/individualpages/20110919SingerinAfroBlueFeatured.htm <http://www.howard.edu/newsroom/newsclips/individualpages/20110919SingerinAfroBlueFeatured.htm>
Afro Blue Members Discuss Appearance on Sing Off
http://www.howard.edu/newsroom/newsclips/individualpages/20110919AfroBlueMembersDiscussAppearanceonSingOff.htm<http://www.howard.edu/newsroom/newsclips/individualpages/20110919AfroBlueMembersDiscussAppearanceonSingOff.htm>
Get Top Stories Delivered Weekly
More districtchronicles News Articles
Recent districtchronicles News Articles
Discuss This Article