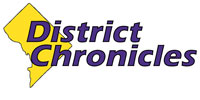 Post Classifieds
Economic growth takes more than equity in home
By Jasmine Rennie
On May 5, 2014
Former SBA Deputy Administrator Marie Johns supports Black economic growth and prowess.
(TriceEdneyWire.com) - Marie Johns, former Deputy Administrator of the U.S. Small Businesses Administration (SBA), said people of color, particularly African Americans, must exercise leadership and attention to legacy in order to strengthen business ownership and personal economic prowess.
"It's about the legacy," said Johns, now founder and president of L&L Consulting, a division of Leftwich & Ludaway, LLC. "Most African Americans have not built a solid financial platform. This is what makes them unattractive to most banks ... Sometimes things don't change because we don't require it."
Johns recently shared her words of wisdom with a group of students at Howard University gathered to hear the results of a recent business plan completion. She covered a range of topics from unbanked households to the importance of the African-American presence in the corporate world.
"We have to do more to educate those around us about mindful consumerism," said Johns.
According to a Nielsen Report, African Americans have a current spending power of $1 trillion and that number is set to increase by 2017. The Black communities are noted for their excessive buying habits and are loved for their consumerism. They are seen as loyal and exhibit more aggressive consumption of certain items, especially those related to media, hair care products and smartphones, according to the report.
Johns contends that giving the bulk of one's salary to specific brands is not beneficial to the Black community. "If you know better, you do better" she said.
Johns referred to African Americans as unbanked - a population described as a group of individuals who do not use banks or credit unions for their financial transactions. A number of consumers are unbanked for reasons that include poor credit history, lack of knowledge about the United States banking system, and language barriers for immigrants.
A 2011, FDIC survey concluded that there were approximately 10 million unbanked households within the United States. The African-American demographic represented 21.4 percent and served as the largest single group within that population.
On the other hand, a place for leadership in strength in the Black community could be in small business ownership, said Johns.
"Small businesses are the engine of the U.S. economy," she said, noting that she believes firmly in entrepreneurship. "We can figure out how to commercialize our God-given gifts so we can make money from them ... We have a deep and rich history of entrepreneurship [as] our ancestors created [it] in this country, so we have to exhibit leadership."
According to statistics on Repec.org (Research Papers in Economics), businesses owned by African Americans tend to have lower sales, fewer employees, smaller payrolls, lower profits and higher closure rates. In addition, a new report conducted by Black Enterprise concludes that - despite the high level of spending by African Americans, there are still 75 corporations out of America's top 250 largest companies that lack Black representation among their board of directors.
"The presence of Black people is so necessary. If we are not there, who is going to speak for us; How will our stories be told?" said Virginia Monet King, an associate of the Association of Public Health Laboratories. She added that African Americans must do more to make sure we make our own decisions."
The economic recession has also majorly impacted loans to Africans Americans by the U.S. Small Business Administration. SBA is a crucial part of financing for entrepreneurs in starting, buying or expanding their businesses.
"Many Black business owners capitalize their businesses based on equity in their homes," said Johns. According to an analysis by the Wall Street Journal, Black-owned small businesses once received 8.2 percent of all loan money through SBA. That figure is now down to 2.3 percent while the Hispanic demographic remains steady at 4.7 percent.
Johns stressed that the key to overcoming is education and perseverance, with African Americans maintaining in each arena.
"We can't let [anything] stop us. We must make a way out of no way."
Get Top Stories Delivered Weekly
More districtchronicles News Articles
Recent districtchronicles News Articles
Discuss This Article