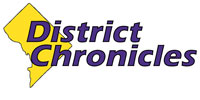 Post Classifieds
After 30 years, Howard Theatre re-opens with flair
By Akeya Dickson
On May 1, 2012
DDOT. A crowd of admirers savors the grand re-opening of the symbol of Black Broadway.
The crowd of people who gathered at the Howard Theatre's re-opening night gala indulged in retro glam and opulence for the evening, with details befitting a scene from "Harlem Nights." After all, the grand re-opening of the theatre, whose doors had been shuttered and appeared nearly forgotten for 30 years, encouraged an extra curl or two, a carefully applied red lip, flowery chiffon, gilded gowns, tuxedos and bow ties that froze in place.
Last Thursday's energy may well have rivaled, if not eclipsed, that of its neighbor Howard University and its epic homecomings. Sure, Howard University President Sidney A. Ribeau and his wife, especially jazzy in a black strapless number, mingled among the famous and not so famous. And never mind the smartly dressed politicians and well-heeled D.C. notables emerging from black Lincoln town cars; or the young women trekking to near the corner of 7th and T Streets, N.W. from Shaw/Howard Metro down Georgia Avenue in spaghetti-strapped, floor-length sequined gowns, careful to make sure their hems never grazed the ground until they reached the gala's purple carpet entrance.
Media maven Cathy Hughes outfitted in a svelte sequined tuxedo jacket excitedly, chatting about the theatre's revival. Susan Taylor, former editor of Essence magazine, was all smiles with her signature cornrows. And singer Raheem DeVaughn was wide-eyed behind his black-framed hipster glasses, humbled to perform before luminaries twice his age.
"The Howard Theatre was to D.C. what the Apollo Theater is to New York," explained Hughes. "It was the chitlin' circuit where artists got their start."
This night belonged to those who had graced the stage in the theatre's first incarnation. Housed in U Street's "Black Broadway" corridor, the first theatre for Black patrons and performers opened its doors in 1910. The NAACP was founded just a year earlier, largely to oppose lynching and fight for equal treatment. What later became known as the National Urban League traces its roots to the same year curtains first ascended in the Howard Theatre, hailed as "the largest colored theatre in the world."
It was a period of rigid segregation, a time when Blacks were unwelcomed at White theaters but Whites weren't turned away from the Howard. It predated Harlem's Apollo Theater, Chicago's Regal Theater and Baltimore's Royal Theater. It launched the careers of Marvin Gaye, Ella Fitzgerald, Aretha Franklin, Duke Ellington, the Supremes, Louis Armstrong, Sammy Davis, Jr., Dizzie Gilespie, Redd Foxx, Moms Mabley, and too many others to name.
And that's why so many stars were willing to return for its rebirth.
"It's wonderful and is much-needed here in D.C." said singer Dionne Warwick. "I performed here many years ago, and this is a complete turnaround from how the theater ended up after it closed."
It took six years - and $29 million - to get to such a point, however. In 2006, Roy "Chip" Ellis of the Ellis Development Group, spearheaded the restoration project by securing the redevelopment contract and piecing together financing and buy-in support from the D.C. government, grants, donations and a partnership with Blue Note Entertainment Group, the theatre's New York-based operator under a 20-year lease.
In 2002, the Howard Theater landed on the D.C. Preservation League's list of the District's Most Endangered Places. It achieved National Landmark status in 1974, just a few years after the 1968 rebellions that ravaged the U Street corridor in the wake of Dr. Martin Luther King's assassination, and a few years before it closed its doors in the early 80s.  Thanks to the persistence of Ellis, ground was broken in 2010, a step that paved the way for the glamorous re-opening.
The stage, balcony and some of the columns have been preserved, and the exterior has also been restored. But the 12,000-square-foot space now includes a restaurant with a menu created by celebrity chef Marcus Samuelsson, HD video screens, private party spaces in the balcony, and cabaret-style seating for 650, replacing the rows upon rows of seats.
Fittingly, Berry Gordy and Smokey Robinson arrived together, praising each other, marveling at the building's extreme makeover and taking a stroll down memory lane.
"I grew up in this theatre," said Robinson, who performed at the Howard at 16. "It's going to provide quality entertainment for the people of Washington, DC, like it used to when I was a kid."
Gordy, who was given the Howard Theatre Living Legend Award, also fondly recalled the early days.
"This is where we got our breaks and our confidence and all that, from the people of Washington," he remembered. "The Howard Theatre is where we always wanted to come because the audience always made us feel like we were somebody."
Get Top Stories Delivered Weekly
More districtchronicles News Articles
Recent districtchronicles News Articles
Discuss This Article