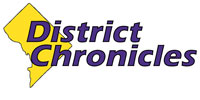 Post Classifieds
Pontius scores twice, United blanks Vancouver 4-0
By Freddie Allen
On August 23, 2011
Black consumer power is not that powerful if we're not spending into our community.
On Saturday, August 13 rookie goalkeeper Joe Willis started and veteran midfielder Chris Pontius scored two goals (47+, 70') to lead United to a crushing 4-0 victory over the Vancouver Whitecaps. Willis grabbed six saves in his pro debut.
"I think we've been knocking on the door with a performance like that for a little while now and to put it all together is a good feeling," said assistant coach Chad Ashton after the match. "Hopefully we can realize the things that we did well and use those things going forward."
The Whitecaps threatened to score on a set piece scramble late in the first half. Vancouver forward Camilo curved a free kick over the pack. Willis leaped to block the shot off the crossbar. The deflected shot bounced into the box, sending the players into a frenzy for possession. Willis maintained his composure and laid out for the ball like it was a live grenade in a foxhole to keep the Whitecaps scoreless on the night.
Willis earned his start after a tough week in practice battling the veteran Steve Cronin. The coaches called the rookie's number on Friday, a day before the match.
As stoppage time ticked away in the first half, Pontius captured a cross from Dwayne De Rosario and beat Whitecaps keeper Jay Nolly for the score (47+). De Rosario also assisted on the team's fourth goal of the night, finding Stephen King camped out above the penalty box for the chip shot (81').
De Rosario (aka D-Ro) emerged this season as a game changer on United's roster.
"In the second half [Vancouver] started to converge on [De Rosario] with bodies and our guys did a good job running off of him. That created a lot of holes," Ashton said. "Not only does he make plays, but other teams are so aware of him that he creates space just with his presence."
Ashton said the team made little adjustments going into the second half. United picked up where they left off when Santino Quaranta passed the ball to a streaking Andy Najar for the team's second score (48') of the match.
"And again that second goal, their heads go down a little bit," Ashton added. "And all of a sudden we pick up momentum and kinda take over the game at that point in time."
"It was a great effort by the whole team, the whole organization," said United goalie Bill Hamid. "Ben was out and the assistant coaches shad to step in. Everything clicked tonight and we got a good win against Vancouver."
Hamid said that big wins like this will help the team build confidence for future contests.
"We have to keep the ball moving, and if we keep playing the way played today, we'll be fine."
DC United hits the road this weekend taking on Chicago Fire Thursday, August 18 and Sporting Kansas City, Sunday August 21. United (7-6-9) returns to RFK Stadium on Sunday, August 28 to face the Portland Timbers (7-11-5). For more information on DC United visit www.dcunited.com.
Get Top Stories Delivered Weekly
More districtchronicles News Articles
Recent districtchronicles News Articles
Discuss This Article