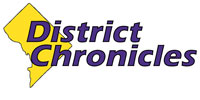 Post Classifieds
Metro Brief: Low-income residents to have more access to farmers' market nutrition
District of Columbia
On July 8, 2013
Many low income residents will be able to use their SNAP dollars at farmer's markets at an increased value. snap.nal.usda.gov
With the passage of the Fiscal Year 2014 budget, D.C. is allocating $200,00 in local funds to expand and strengthen farmers' market nutrition incentive programs, joining other major cities, including New York, Los Angeles, and Boston, in dedicating local funding for "bonus bucks" to increase food access at farmers' markets for SNAP (Supplemental Nutrition Assistance Program, formerly known as Food Stamps), WIC (Women, Infants and Children), and Senior Farmers Market Nutrition Program (FMNP) recipients.
Thousands of additional low-income residents will be able to increase the value of their federal nutrition assistance dollars at farmers' markets throughout the District. Beginning spring 2014, a SNAP recipient who redeems $5 of benefits can purchase $10 worth of fresh, locally grown fruits and vegetables at participating farmers' markets.
"This investment will help residents struggling to purchase more healthy foods on a tight budget," said Alex Ashbrook, director of D.C. Hunger Solutions, the organization that convenes the FMC. "We applaud the D.C. Council for funding these programs that help low-income residents access nutritious foods."
According to a report published by the Food Research and Action Center with data collected from Gallup, more than one in seven households in Washington D.C. struggled to afford enough food in 2012.
"This is a landmark moment for individual and community health in the District," said Lauren Shweder Biel, Executive Director of D.C. Greens and a member of the FMC. "We are so grateful that the D.C. Council has emerged as a strong partner in our collective efforts to get healthy food into people's hands and onto their plates."
Farmers' market nutrition incentive programs have the potential to shift the eating habits of D.C. residents by expanding the amount of local and nutritious produce low-income residents are able to access. The incentive programs also strengthen the local economy by directing city dollars to local farmers and the markets that support them.
"This money will leverage the District's existing farmers' market infrastructure to play a greater role in healing the city's health crisis. We sincerely thank and commend D.C. City Council for spearheading this citywide investment," said Biel.
Get Top Stories Delivered Weekly
More districtchronicles News Articles
Recent districtchronicles News Articles
Discuss This Article