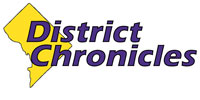 Post Classifieds
College students find new use for social media
By Kristin Overton
On August 11, 2013
Arvinger used crowdfunding, social media and generous offers from MTVu and his school to pay off his debt and continue his education at Howard University. Courtesy of Corey Arvinger
He hadn't planned it that way. But at the end of his sophomore year at Howard University, Corey Arvinger found himself staring at a $14,000 outstanding balance on his student account. If he didn't pay it, the university would not allow him to register for the fall semester.
"It was devastating," he said, almost tearing up. "I knew I had built something there and I didn't want my work to go to waste. My goal was to graduate from Howard University. The atmosphere on campus is like no other. The opportunities are limitless."
His dream seemed to be floating away right before his eyes, he said.
Then, it occurred to him. He had built a strong network of social friends. He started an online campaign to raise the funds from his web friends - in addition to working two full time jobs. The message to his network friends was direct: "I am asking 4,000 people to contribute $4 each. Will you be a part of the solution? And really $4 is either a vanilla latte from Starbucks or helping a student stay in college. If you can't donate though, just spread the good word about Corey's campaign on Twitter with the hashtag, #4For14000.
Using his Twitter, Instagram, and Facebook networking accounts, Arvinger spread his message like wildfire to more than 5,000 people. MTVu and SALT, a free resource that helps college students reduce college student debt, were among those moved by Arvinger's story. They surprised him with a $12,000 check on a video segment: "MTVU Presents 'Random Acts': Back To School for A Howard Student."
Howard University matched the donation with another $12,000 check from its Bridging the Gap fund to pay off Arvinger's debt and get him back to school.
According to Amy Mintz with Student Body Association of America $5.1 billion was in raised funds in 2013. Social media, which just rose to popularity barely a decade ago, now accounts for 27% of total U.S. internet time. Put crowdfunding and social media together, and it does indeed pay to have friends.
Similar to Arvinger's need to fund an educational dream, Rachel Hampton, junior at Howard University began a crowdfunding campaign in June that she has promoted through her social network sites to assist fund her study in Grenada, Spain, in the Fall of 2013.
"Using Fundrazr.com I set up an online campaign that outlined who am I, what I'm doing, and why I need support to help alleviate some of the cost on my parents for my study abroad trip," said Hampton. "I was able to promote it through my Facebook and Twitter page, which helped spread the word so much faster because others were able to help spread it as well. It was much more efficient than what I could've done alone."
Social networks were pioneered as a way of staying connected to individuals for social and pleasure purposes. However, these sites have taken on the role of agents of change as people use their networks to reach the masses. They have become the foundation of a successful campaign for sites like Fundrazr, Fundme, and countless other online crowdfunding initiatives.
"I've also reached out to my professional contacts through my social network LinkedIn, " said Hampton. "It's so simple that I've also gotten my friends to post on their social networking sites as well."
Jaisa Gooden, a junior at Howard University also used Fundrazr to raise money for underprivileged youth while she studied abroad in South Africa. She said that her campaign was easy, accessible, and successful.
"We were able to raise over $1,000 for children's pens, pencils, Afrikaans-to- English dictionaries, and other school supplies for those that lived in Egoli, an informal settlement with no running water and no electricity," said Gooden.
"Crowdfunding makes it easier and organized to keep track of funds during fundraisers because it's all electronic, versus the traditional pen, paper, and cash collections," she continued. "The sites calculate and send you email updates when someone donates."
GoFundMe is a crowdfunding site that has thousands of accounts with18 different categories of purpose, ranging from personal celebrations to funds for life saving operations.
Get Top Stories Delivered Weekly
More districtchronicles News Articles
Recent districtchronicles News Articles
Discuss This Article