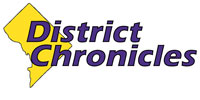 Post Classifieds
Stuckey hits buzzer-beater, Pistons edge Wizards 79-77
On April 2, 2012
Wizards G No. 2 John Wall finished with 14 points, 9 assists and 7 rebounds in the 79-77 loss to the Pistons. FILE PHOTO
For Wizards head coach Randy Whitman, the loss to Detroit on Monday was just more of the same.
"It was a carbon copy of the last two (home) games," said Wizard's head coach Randy Whitman. "We have to get to the point where we get a lead and we don't play just to play. We have to put games away in the second half, especially in the fourth quarter. We haven't learned that yet."
The teams played it close in the first quarter, but the Wizards found a little breathing room in the second. Washington carried a 35-30 lead into the locker room at halftime. The Wizards surged in the third quarter and the Pistons trailed by 13.
Detroit managed to cut the lead to 9 going into the fourth.
Rodney Stuckey gave the Pistons their first lead of the second half when he hit a triple (74-73) with less than a minute to play.
Washington's new insider Nene tied the game at 77 with a right-handed hook over Ben Wallace with less than 10 seconds to play.
With .2 seconds on the clock, Rodney Stuckey nailed a step-back jumper over Jordan Crawford to end the game, 79-77. Stuckey finished with 24 points and 2 rebounds.
"I didn't want to force anything," Stuckey said after the game. "I was fortunate enough it went down and we were able to win the game."
"Teams keep making those runs," said Wizards guard John Wall. "We responded well but we just have to get the ball to go into the basket."
The loss marked Jordan Crawford's sixth consecutive game scoring 20 or more points.
"My teammates are taking care of me and getting me good shots," said Crawford. "The most important thing is we have to find ways to win."
The Wizards (11-38) travel to Indiana (29-19) to take on the Pacers on Thursday, March 29. Washington hosts Andre Iguodala and the Philadelphia 76ers (28-22) on Friday, March 30 at the Verizon Center. Freddie Allen/DMVAS/District Chronicles
Get Top Stories Delivered Weekly
More districtchronicles News Articles
Recent districtchronicles News Articles
Discuss This Article