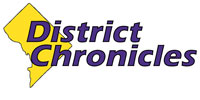 Post Classifieds
Howard interim president asks students to be fiscally vigilant
By Jazmyn Cadogan
On November 27, 2013
Frederick, Howard's Interim president, held a town hall to address the president's resignation and the future of the University. howardnewsservice.com
(TriceEdneyWire.com) - Howard University Interim President Dr. Wayne Frederick, has encouraged students to closely monitor university finances in order to be educated about the use of their tuition and fees.
"It is up to students to take advantage of the wealth of knowledge afforded to them and finding out the use of their monies," Frederick told students at a town hall meeting.
The meeting, organized by the Howard University Student Association, was a question and answer session with an effort to address the concerns of students, alumni, and faculty on various issues following the abrupt resignation of Sidney A. Ribeau on Oct. 1. Ribeau announced he would retire at the end of this year. His announcement followed a three-day meeting of the university's board of trustees and months of debate and complaints about the management and financial health of the historically Black institution, often called "the mecca" because of its prestige.
Despite the controversies that preceded Ribeau's announcement, board Chairman Barry Rand said, "Howard has remained academically, financially and operationally strong and one of the most respected institutions in higher education" because of Ribeau's presidency.
At the late October town hall meeting, Frederick touched on a multitude of issues, including transparency of finances, campus safety, and student affairs. But foremost on the minds of students was the question of accountability.
When asked by HUSA President Anthony Miller how the university plans to be more transparent with handling funds, Frederick responded, "Finances are audited and published each year as a legal requirement."
Frederick, deemed an expert in this area, has served as Howard's chief academic officer and provost since June 18, 2012 and has been broadly active in academic planning with oversight of Howard's 13 schools and colleges as well as the health sciences enterprise. He is highly respected as a scholar, surgeon, researcher and administrator. Former director of the Howard University Cancer Center, Frederick is often described as a "master teacher" in the department of surgery at Howard. He is also a three-time Howard alum, having earned his Bachelor of Science degree in zoology from Howard as well as his medical degree, and his Master's in business administration.
Fredrick described the university's funding source as strong; yet dependent on sources outside of student tuitions and fees, private grants and alumni contributions.
"Over 70 percent of annual revenue is from federal sources, thus lacking stability in crucial economic times," he said.
This means that in times such as the recent government shutdown, the university experiences a deficiency in cash flow. Frederick explained that the university's three main sources of revenue are medical fees, federal appropriations, and tuition/fees contrary to a public educational institution where the main income should be tuition.
"We are currently looking to staff a full-time employee as CFO, continue renovations within the infrastructure, and increase revenue to create a better community within and around Howard University," said Frederick.
In response to a question from the audience about the direction of the university away from dependency on government funding, said Frederick, "We are looking to outsource some of our services to provide better service and attract for business."
Essentially the university is looking for business partners in areas such as the hospital management and renovations. He hopes such a move would increase efficiency of the hospital management; thus create a larger cliental and more cash flow.
A special committee of the board is currently overseeing the transition and a national search for a permanent successor. Meanwhile, Frederick urged students, faculty and administrators to take part in doing all they can to make Howard a success:
He said, "It is essential for Howard University to be here and be strong because it paves the way for dreams like mine."
Get Top Stories Delivered Weekly
More districtchronicles News Articles
Recent districtchronicles News Articles
Discuss This Article