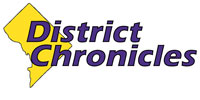 Post Classifieds
G.W. team gives girls women's soccer
By Alicia Johnson
On September 12, 2002
On a clear and warm Saturday morning, 20 girls ranging from ages 14 through 8 honed their soccer skills on George Washington University's Mount Vernon Field. Hosted by the GW women's soccer team, young girls from the community were able to receive instruction from a top-notch Division I program. During the inaugural clinic, young girls learned how to improve footwork, ball control, conditioning and, of course, shooting. George Washington head coach Tonya Vogel hopes to make the clinic an annual event, but with greater emphasis on particular techniques.
"We want to set up extra sessions with more specific skills, such as defending and heading," she said.
The clinic began simply as a way for the soccer team to reach out to the Mount Vernon community and share its amazing facilities with residents.
"Mount Vernon has been an outstanding community," Vogel said, "this outreach is a way to give back and hopefully gain some more
Assistant coach Colin Lennon says he believes that getting kids involved at a young age is encouraging.
"There are not that many great facilities in the area," Lennon said, "so the clinic gives the kids a great facility to practice on and something to aspire
As women's soccer continues to gain momentum throughout the nation, especially with the establishment of the women's professional soccer league, the WUSA, clinics like the one hosted by GW are training grounds for future soccer players.
"I think women's soccer is at a critical state," said Vogel, "we must continue to go out and promote and endorse women's soccer so that it can stay alive for 20 or 30
Freshman goalkeeper Kelly Paolucci can remember her experience at clinics during her childhood.
"When I was little, people did clinics like this and I remember looking up to the athletes," she said. "Girls need role models to keep them going and this clinic gives them extra help and hope to stay with
"Soccer is one of those few sports that you can play from early on," said Vogel. "This camp gives the girls on the team a chance to give back and be role models for these
The children also see the benefits of attending a camp like this. "I like working with the younger kids and learning new skills to add to my game," said 13-year-old Nicole Smith, a student at Frost Middle School. "I think it's great to work with college players and coaches because they were once our age and now they are playing in
At the end of the clinic, the girls were treated to snow cones as a reward for a great practice. Jennifer Foltz, a 13-year-old student at Liberty Middle School, has become a quick fan of the George Washington clinic.
"I hope to keep coming back to this camp because I like working with Tonya and Colin," she said.
Though the full schedule for the next clinic has not yet been planned, it seems that there won't be any problem with attendance.
"I hope to come back because I like playing soccer and I had fun," said 8-year-old Forestville Elementary student Lauren McCormick.
George Washington might have some future all-stars, as many of the young girls from the clinic have already begun dreaming about donning a Lady Colonials uniform.
"I hope to play for George Washington when I get bigger," said McCormick.
Contact Alicia Johnson at District_Chronicles@hotmail.com.
Get Top Stories Delivered Weekly
More districtchronicles News Articles
Recent districtchronicles News Articles
Discuss This Article