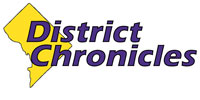 Post Classifieds
Innoncence lost: 3 District men wrongfully convicted spark review of FBI procedure, court cases
By Frederick H. Lowe
On August 19, 2013
Donald Gates, Kirk Odom and Santae Tribble were all District men wrongfully convicted of crimes they didn't commit due to faulty FBI hair analyses. Their exoneration led to a Justice Department review of similar convictions.
The U.S. Justice Department and the FBI will review more than 2,000 criminal convictions in which the FBI used microscopic hair-sample analysis that has now been proven to be scientifically invalid. In some cases, hair-sample analysis led to convictions of innocent individuals.
The Justice Department and the FBI launched a review after three Black men - Donald Gates, Kirk Odom, and Santae Tribble - all of Washington, D.C., had been convicted of violent crimes and were sentenced to long prison terms based on hair samples found at the individual crime scenes.
Gates, Odom and Tribble, were later exonerated by DNA evidence, which has replaced hair-sample evidence, said Paul Cates, a spokesperson for the Innocence Project, based in New York.
Before DNA testing was used in criminal trials, prosecutors throughout the country routinely relied on microscopic-hair comparison analysis, often provided by the FBI, to link a criminal defendant to a crime.
The practice was deemed "highly unreliable" in a 2009 National Academy of Science report on forensic science, titled, "Strengthening Forensic Science in the United States: A Path Forward," the Innocence Project said in a statement.
FBI overstated hair-sample evidence to win convictions
"It is possible to conduct hair microscopy and find similarities among various samples," said Peter Neufeld, co-director of the Innocence Project. "But it appears that in many cases the FBI was overstating the significance of these similarities, often leaving juries with a false impression that the hair recovered from the crime scene must have come from the defendant and could not have come from anyone else. The government is now acknowledging that this was wrong and that the science does not support such conclusions."
Blacks are the most exonerated
Since 2000, 311 individuals, including 193 African Americans, 94 Caucasians, 22 Latinos and 2 Asian Americans, have had their convictions overturned by DNA evidence, according to Innocence Project Fact Sheet.
The Innocence Project already has identified that 72 of the first 310 wrongful convictions overturned by DNA evidence involved faulty hair evidence.
The Innocence Project announced in July the historic agreement to review the cases that were processed by the FBI between 1985 and 2000.
The National Association of Criminal Defense Lawyers (NACDL) and pro bono lawyers also are participating in the case reviews. The cases involve an undisclosed number of FBI agents who testified that hair samples found at the crime scenes pointed to one individual, excluding all others.
An FBI agent testified that Tribble's hair fibers were found at the murder scene, but DNA evidence excluded the hair fibers as Tribble's. DNA also found that one of the hair fibers used to convict Tribble was hair from a dog.
The three Black men
Tribble served 23 years in prison for the 1978 robbery and murder of a John McCormick, based on 13 hairs found in a stocking mask worn by the gunman. Police recovered the mask at the crime scene. In 2012, Tribble's lawyers had DNA tests performed on the hairs and none of them matched Tribble. The FBI also mistakenly called a dog hair a human hair.
Gates was convicted of the 1981 rape and murder of Catherine Schilling, a 21-year old Georgetown University student. A judge sentenced Gates to 20 years to life in prison. In 2009, a DNA test of the hair samples found at the crime scene eliminated Gates as the rapist and murderer. In 2010, Gates was issued a certificate of innocence.
Odom was sentenced to prison for 22 years and had to register as a sex offender for the 1981 rape of a White woman on Capitol Hill. An FBI special agent testified that a hair sample found at the scene matched Odom's. His family testified that Odom was at home at the time of the rape because his sister had returned that day from the hospital with her new baby. A jury took only a couple of hours to convict him.
Get Top Stories Delivered Weekly
More districtchronicles News Articles
Recent districtchronicles News Articles
Discuss This Article