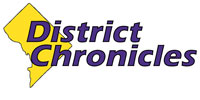 Post Classifieds
Love you, Mom: After a sudden illness, a daughter reverses roles to nurse her mother back to health
By Criscia Dawson/Contributing Writer
On May 15, 2011
GOP member Davenport defends her depiction of First Family as monkeys. thegrio.com
It was fall 2008. I was in the first semester of my junior year in high school. While my peers were all wondering what they would wear to the next homecoming dance, my mother had something growing inside of her that was the size of large fetus, but it wasn't a baby. It was a tumor. An Intramural Fibroid to be exact. The night my mother told me seemed like a normal school night in my house. I was in my bedroom writing a paper. My mother was in her bedroom laying down and watching TV. It was around 11 o'clock when she called me into her room. That was normal for her. I was constantly called at night to get her a glass of water or to pass her the remote.
I was prepared to do her bidding. But the look in her eyes was different this time. They were glassy as if she was on the verge of tears. My mother doesn't cry often. She only cries when something is really wrong.
My mother told me to sit down and I began to expect the worst.
"I have a tumor in my stomach," she said. "Doctors say it is the size of a five-month pregnancy. They caught it before it became cancerous. I am scheduled for surgery to get it removed in a couple months."
She told me so calmly, as if the tumor was as clear-cut as a boil. My mother had it all worked out. My mother consoled me. "We are going to beat this, baby," she whispered as I began to cry hysterically.
The night before the surgery, my mother asked me if I would skip school to go with her to the hospital. I've been thinking about that question for a long time. I did not have the strength to sit in a hospital lobby, waiting for the doctor to tell me the fate of my mother. Yet, I didn't know if I could sit in a classroom completely oblivious to what was going on. In the end, I decided to go to school and attempt to make it to the day. When I told my mother I would not come to the hospital, I could see the pain and confusion in her eyes. Yet, I stood firm to my decision.
The next day at school, I could not concentrate. I kept wondering what life would be like without my mother. What would it be like to never hear her voice again? Or to not find encouraging notes on the refrigerator every day? Or to not take off her shoes and make her dinner after a long day of work? By the end of the day, I found myself in tears. I could not fathom what life would be like without my mother.
After school, my grandmother filled me in that my mother's surgery went fine, but, when I entered the hospital room, tears filled my eyes. My mother was in pain. She couldn't sit up without letting a scream escape her lips. She called for me, not knowing that I was present in the room. The medicine the doctors injected her with made her delusional and unaware of her surroundings. Even though I hugged her and told her I was there for her, she did not realize that it was me. As I left the room for the night, I knew that the road to recovery would be a long and strenuous process.
A week passed and it was finally time to take my mother home. She would be confined to the upstairs portion of our home. She wouldn't be able to do daily activities by herself, such as taking a shower or going to the bathroom. My mother had become dependent on me.
The surgery was not covered by my mother's insurance, which ruled out the option of getting a visiting nurse. I knew it would be a stressful experience, but I was willing to take on the task in order to improve my mother's health.
Every morning, I would get ready for school, then wake my mother and take her to the bathroom. After that, I would put her in her favorite chair in front of the television and hand her the remote. Then I would go downstairs, make her tea - in the smiley face mug or the Bugs Bunny mug that she preferred because they were wide and thick. I'd prepare a small breakfast of wheat toast and scrambled eggs or bacon and eggs, put it on a tray and head back upstairs.
We would then say our "I love yous," and I would head off to school to return at 6 o'clock. By 9, it was time to put my mother in the shower. That was the part I dreaded.
The warm water touching my mother's wound caused excruciating pain. Hearing my mother's muffled wails as I washed her was not something I enjoyed. However, to help get through the painful moment, we would sing "My Girl" by the Temptations and other classic songs together. Our horrible singing made us laugh and lightened the mood.
During that period, I found many ways to get through the strenuous process. I began expressing myself more by joining the dance team and writing editorials for the school newspaper. But mostly, I cried to let go of the anxiety I had built up trying to stay strong in front of my mother.
Everything worked like clockwork for a month and a half. I watched my mother get better as the days flew by. My mother was able to walk down the stairs by herself for her final appointment with her doctor which was a success.
The doctor asked her what she was doing to make such a speedy recovery. My mother squeezed my hand, looked at me, and said "My baby took good care of me. She's my angel." I smiled. I took pride in knowing that after so many years of my mother taking care of me, I was able to take good care of my mother when she needed me.
Thank you mom!
Get Top Stories Delivered Weekly
More districtchronicles News Articles
Recent districtchronicles News Articles
Discuss This Article