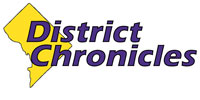 Post Classifieds
Every state is a 'swing state'
On November 4, 2012
Don't let anyone kid you. While it is true that certain states are almost certain to go one way or the other in Tuesday's presidential election, when you have an election that seems as close as this one, every vote counts.
The one thing that happens when the polls indicate that a race is tied is that you lose any room for complacency. Those who might sit back and, in this case, assume that President Obama will coast to a re-election, are forced to rethink that position. There are no certainties. For that reason those who support the re-election of President Obama cannot afford the luxury of believing that if they live in New York that their vote does not matter because the state will go with Obama. The same applies to voters living in South Carolina and other states expected to go to Mitt Romney and Paul Ryan.
First, the electorate is unpredictable in many respects. The "get out the vote" efforts in each state will be critical irrespective of what the polls say. Second, the election is not simply about the presidency but about an entire list of other offices. Therefore, sitting home and assuming that the election will turn out one way or the other is a recipe for disaster.
Let's also be clear that there is particular volatility among White voters. We have had four years of a Black president who, while having not discussed race very much, is now not simply an idea but a reality. For some Whites there will be a tendency to seek out the White guy feeling that the Black guy really did not do enough. There will be others who will turn to Romney, not necessarily because of racism, but out of frustration that conditions have simply not improved sufficiently.
The Obama administration, over these past four years, should have been an outspoken champion of working people and should have taken a much harder stand against corporate interests. Its failure to do so was the result of both the alliances that helped bring the administration into office, plus the insufficient national pressure from those of us on the outside to insist that the administration act differently. These are critical lessons and, should Obama be re-elected, will hopefully help to shape the approach that Black America takes toward the administration.
In the meantime there are forces afoot who wish to turn back the clock; who wish to ignore changing demographics in the USA, and who wish to enrich the upper crust of this society. They desperately want the presidency and it appears that they will do whatever it takes and will spend billions of dollars in order to be successful.
For those of us who stand against greed and the crushing of the average person, November 6th will be the day to take action; it will be a day to take action precisely against those who wish to turn back the clock. That means vote, vote early; make sure every eligible voter in your household votes; and make sure that your friends and co-workers vote. You really do not want to awaken on November 7th and find out that the "bad guys" won, particularly if they won by a slim margin.
Bill Fletcher, Jr. is the immediate past president of TransAfrica Forum and the author of "They're Bankrupting Us" - And Twenty Other Myths about Unions. He can be reached at papaq54@hotmail.com.
Get Top Stories Delivered Weekly
More districtchronicles News Articles
Recent districtchronicles News Articles
Discuss This Article