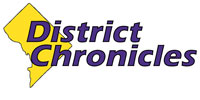 Post Classifieds
Metro Brief: Space heaters cause of two fires in county
On February 26, 2012
Gingrich, 68 use Medicare, the same program House Republicans tried to dismantle last year. ocregister.com
Two families are without homes after two separate fires in Montgomery County. On February 14 at 7:30 p.m. firefighters responded to a house fire in the 13000 block of Holdridge Road in Silver Spring and quickly extinguished the fire. Twelve hours later, firefighters were dispatched to the unit block of Lauer Terrace in Silver Spring for a reported house fire.
Arriving units encountered fire venting from the window and smoke conditions throughout the house. Firefighters were able to quickly control and extinguish the fire. The homeowner reported that the smoke alarm had activated and alerted her to the fire and she was able to safely escape. There was one firefighter injury and no civilian injuries reported. Investigators confirmed that the fires were unintentional and believe that space heaters were being used in the homes.
The high cost of heating homes combined with efforts to save energy, raises the potential for an increased use of alternative heating sources. If space heaters are used, firefighters are urging residents to exercise extreme caution, take important safety precautions and review these tips:
Space heater safety tips:
All heaters need space. Keep things that can burn, such as paper, bedding or furniture at least three feet away from heating equipment.
Make sure you plug the space heater directly into an outlet – not an extension cord.
Turn off and unplug space heaters when you leave a room or go to sleep.
Space heaters should always be positioned on a flat floor and not on top of furniture, a table or cabinets.
Make sure all fuel-burning equipment is vented to the outside to avoid carbon monoxide (CO) poisoning which can cause illness and even death.
Install and maintain carbon monoxide alarms inside your home to provide early warning of carbon monoxide.
Only use heating equipment that has the label of a recognized testing laboratory and read all manufacturer instructions.
Always have working smoke alarms in your home.
Get Top Stories Delivered Weekly
More districtchronicles News Articles
Recent districtchronicles News Articles
Discuss This Article