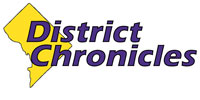 Post Classifieds
Redskins drop four in a row, lose to 49ers, 19-11
By Freddie Allen
On November 4, 2011
San Francisco FB No. 49 Bruce Miller scored his first TD of the season against the Redskins. Edward Wallace/District Chronicles

San Francisco's power runner No. 21 Frank Gore rushed for 107 yards in the win. Edward Wallace/District Chronicles
The San Francisco 49ers won their seventh game of the season at FedEx Field, shutting down the Redskins' offense, for the 19-11 victory. Sunday's defeat marks Washington's fourth consecutive loss.
San Francisco's defense held Washington to less than 100 yards on the ground. Penalties and turnovers also contributed to the Redskins' woes. The Redskins' starting quarterback John Beck finished with 254 passing yards, 1 TD and 1 INT.
The 49ers did most of their damage in the 2nd quarter. San Francisco QB Alex Smith hit rookie Bruce Miller for a touchdown and David Akers added two field goals. Redskins' kicker Graham Gano booted a franchise-best 59 yard FG to end the 1st half.
In his first career start, Washington's rookie running back Roy Helu finished with 105 yards receiving and 41 yards rushing, breaking Art Monk's franchise record for receptions (13) pulling down 14.
Smith completed 17 of 24 passes for 197 yards on the day. Frank Gore rushed for 107 yards and grabbed a team record with his 5th consecutive 100-yard game. David Akers booted four FGs.
Late in the fourth, the Redskins were down 19-3, before scoring the go-ahead touchdown on 9-yard pass to Jabar Gaffney. Then wide receiver Leonard Hankerson added two-points on the conversion.
With less than ninety seconds to play, San Francisco recovered the Redskins' on-side kick attempt to seal the victory. The 49ers sit in the driver's seat in the NFC West and have a 7-1 overall record.
On Sunday, November 13, the Redskins (3-5) take their talents down to South Beach to face the dead-in-the-water Dolphins (1-7).
Get Top Stories Delivered Weekly
More districtchronicles News Articles
Recent districtchronicles News Articles
Discuss This Article