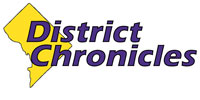 Post Classifieds
DC Divas seek playoff win, revenge against Boston
By Freddie Allen
On June 19, 2011
Saturday night, when the DC Divas take the field against their archrivals, the Boston Militia, they're getting back to the basics. When the teams duked it out on June 25 in Boston, the visiting Divas lost the hard-fought contest 27-16."We got too much involved in what we thought [Boston] might do to adjust to our game," said DC Divas head coach Tim Smart. "We didn't concentrate as much on what we wanted to get done."
Kenyetta Grigsby, the Divas top rusher, hopes the loss opened everyone's eyes.
"Everyone is more focused now," Grigsby said.
Now the season series is knotted up at 1-1 and the Divas hold home field advantage.
So, it's back to the basics. "Attacking them," Coach Smart said. "And making their life miserable."
The Militia won't go down easy. The team from Beantown won it all in 2010, whooping the Divas 28-0 in the playoffs along the way. In 2009, the Divas scored a 27-21 victory over Boston. DC eventually lost to the Kansas City Tribe 21-18 in the championship.
Saturday's must-win scenario won't be a cakewalk for either squad.
"I expect them to throw some wrinkles in, especially on offense, to try and throw us off-balance and catch us off guard."
Boston can expect heavy doses of the hard-running Kenyetta Grigsby and the double dragons at quarterback Allison Hamlin and Kathryn Hemlock.
"Allison is coming back after a year off. She's a proven winner she's got several divisional titles and national championships under her belt."
Hamlin, a veteran in women's pro football, plays the classic drop back quarterback. Cool in the pocket, she makes adjustments and picks defenses apart.
"Kathryn's greatest strength is her mobility," Smart said. "She can make people miss and buy extra time in the pocket."
Hemlock, relentlessly motors through games like the T-1000. She returns kick offs and punts. The five-year pro also punts and kicks field goals. Hemlock plays more positions than Eddie Murphy in "Coming to America".
"There's a lot of history between the two teams," Coach Smart said. "Both teams have a lot to prove. Both of them want to get back to the top."
In the Divas only loss of the season at Boston, Grigsby carried the ball 30 times picking up 155 yards. In their first win of the season at home, she went All-Madden on the Militia rushing for 243 yards and three touchdowns.
"It's going to be a competitive, hard-hitting game," Grigsby said. Coach Smart agreed.
"I think it's going to be a very, very intense, aggressive ball game."
The DC Divas will take on the Boston Militia at the Prince George's Sports and Learning Complex on Saturday, June 25 at 7pm in the first-round of the WFA Playoffs. For tickets and more information about the DC Divas, visit www.dcdivas.com.
Get Top Stories Delivered Weekly
More districtchronicles News Articles
Recent districtchronicles News Articles
Discuss This Article