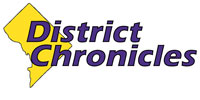 Post Classifieds
Howard offers free, low cost dental services
By Naomi Venerable
On February 11, 2013
Howard University College of Medicine Kelehi Nwankwo surveys crown preparation for temporary crown. Tyrone Clemons/HU Newsroom
Trinity Trimuel, a Howard University freshman from Anne Arundel County, Md., needed help. Two of her molars were rotting and needed to be extracted. She had insurance but it would cover only a third of the medical bill, she said.
Then she heard from the resident assistant of her dormitory about the Howard University School of Dentistry Oral and Maxillofacial Surgery Clinic free dental services. In the second month of her first semester, Trimuel had the teeth pulled. Free.
According to the Howard University Hospital's website, 51 percent of people who have not been to a dentist in the past five years reported high costs as the reason.
The average cost of a simple tooth extraction in the District is $153, $146 in Maryland, and $130 in Virginia per tooth, according to local general dentistry Brighter Dental Plan.
The college, the only school of dentistry in the District, decided to make dental health affordable, while preparing the next generation dentists under the guidance of their professors.
"We have to bridge the gap between parents knowing how to help their children with dental hygiene and decay prevention," said doctoral student Vernesha Lockhart Doctoral who receives her specialty certification in the Department of Pediatrics next year.
Lockhart said tooth decay is the leading dental issue amongst children.
"The misconception that primary teeth will just fall out creating room for new healthy teeth to emerge is not possible if the teeth were not in good condition before," she said.
Lockhart performs various treatments on children under the service of resident dentist Roscoe Williams.
"Children's National Medical Center has a long waiting list just to be seen. If they're not seen here at the Pediatric Clinic at Howard University chances are, they're not being seen," said Dr. Williams.
Since 1881, the college, located at 600 W Street, NW has offered an annual free dental health fair for District residents. Last week, the Give Kids A Smile fair provided 150 children from the Bruce Monroe Elementary School at Parkview an array of free services, including deep cleanings, crowns, cavity fillings, tooth extractions, and methods of instructional dental hygiene.
But throughout the year, the college offers dental health services to community residents at a third to half the cost at other dental providers. For example, at DC Dental Spa and Clinic the rate for a single tooth extraction begins at $200. At the College of Dentistry, a single tooth extraction begins at $65. Markowitz Dental provides dental crowns beginning at $1600. The College of Dentistry offers dental crowns starting at rates as low as $300.
Howard students receive services free year round. This was great news for Cherice McGlone, a junior business management major from Virginia Beach, Va., who found out by word of mouth. She's had X-rays and her teeth cleaned in the Caries Management Clinic.
Adrienne Perry, secretary of the American Dental Education College's Council of Students, encourages students to take advantage of the free dental care.
"Providing dental care to Howard students is especially gratifying because it allows me to serve my community," Perry said. "As students, the financial burden of education often places healthcare services out of reach. Students are entitled to free dental care, which is imperative during these difficult financial times."
Betsy Cook, an Adelphi, Md. resident who does not have dental insurance gets her teeth examined there. On a fixed income, the cost of any dental service was a huge factor for Cook and her husband.
"I'm paying less than triple the amount I paid to receive the same services at my previous dental provider," said Cook."I have been extremely satisfied. They've followed up with me and explain in depth the various procedures that need to be done and why. They've been very thorough," said Cook.
Although Charlotte Carter of Woodbridge, Va., has medical insurance through Blue Cross Shield she insists on coming to Howard with her son to save her family of the high costs of dental care.
"Blue Cross Blue Shield does not pay much of the shared cost for dental care. I figured I could come to the college and possibly receive the same kind of services that a local dentist practice provides - but pay less," Carter said.
The clinic is open from 10 a.m. to 1 p.m. on Mondays and Fridays, 2 p.m. to 4:30 p.m. Tuesdays and Thursdays, and 9 a.m. to 12 p.m. on Wednesdays.
Get Top Stories Delivered Weekly
More districtchronicles News Articles
Recent districtchronicles News Articles
Discuss This Article