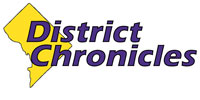 Post Classifieds
Olender Gala salutes two heroes, two champions
On December 9, 2007
Washington, D.C. - The Olender Foundation, headed by Washington malpractice lawyer Jack Olender, celebrated its 22nd anniversary on December 5 by bestowing its Hero in Law 2008 Award to D.C. Court of Appeals Judge Inez Smith Reid for her wise and compassionate service on the bench and in the community. Honors also went to a seriously wounded Iraq war veteran, Capt. (Ret.) Ryan Kules, for inspiring and assisting other wounded soldiers, and to two advocacy organizations, Public Citizen and Public Justice, that fight for the rights of consumers and the injured.Founded by Washington malpractice lawyer, Jack Olender, and his wife Lovell, the Olender Foundation seeks to counter poverty and violence and to promote education and equal justice. The Foundation supports a wide array of organizations that serve the public, especially the citizens of the District of Columbia.

Radio personality and human rights activist, Joe Madison, known to his listeners as "The Black Eagle," served as Master of Ceremonies. Mr. Madison is currently heard on WOL and Radio Talk Network and is syndicated on XM Satellite One: THE POWER, the first 24-hour African-American Radio Talk Network.

D.C. Mayor Adrian M. Fenty kicked off the show by welcoming the enthusiastic audience, which crowded the Amphitheater at the Ronald Reagan International Trade Center. Among the hundreds of guests were community leaders, judges, lawyers, and journalists.

In tribute to Judge Reid, Debra Tidwell sang "We Who Believe in Freedom" by Sweet Honey in the Rock, the Grammy Award winning African-American a capella ensemble. Judge Smith presented the Hero in Law plaque to a beaming Judge Reid, who expressed her heartfelt thanks for the recognition. The Olender Foundation grant in Judge Reid's honor was given to the University of the District of Columbia David A. Clark School of Law.

Jack Olender presented the Champion of Justice 2008 Awards to Public Citizen and Public Justice, two public interest groups that Olender described as "the preeminent champions of consumer rights and civil justice in America." Olender strongly praised the efforts of both groups to fight attempts by government and corporations to infringe upon the rights of ordinary citizens.

Graciously accepting on behalf of Public Citizen was its President, Ms. Joan Claybrook, whom Olender described as the "public face" of the organization's effective fight for government accountability.

The President of Public Justice, Ms. Sandra H. Robinson, joined Claybrook on stage to give thanks for the Champion of Justice Award and the Olender Foundation grants. "Sandra is best known as a preeminent malpractice lawyer," said Olender, who cited numerous honors and awards she has earned. "But Sandra is also deeply committed to the public interest." Attorney Robinson is a senior trial lawyer at The Malpractice Law Firm, Jack H. Olender & Associates, in Washington, D.C.

The evening's final awardee, Captain (Ret.) Ryan Kules, was deployed in 2005 in Iraq, where he lost an arm and a leg from a roadside bomb that also killed two of his comrades. Capt (Ret.) Kevin Barry, who presented Kules with the Olender Foundation's Unsung Hero 2008 Award, described how Kules refused to give up after being injured: "During rehab he enjoyed...waterskiing and snowboarding, sports that some of us with two arms and legs have difficulty performing!"

Six students each from Howard University Law School and the University of the District of Columbia David A. Clarke School of Law received scholarships in memory of the late Earl H. Davis.

Debra Tidwell performed a stirring finale, "So Many Heroes," during which honorees, presenters, and performers entered the stage to receive the audience's final applause of the evening.

Following the show, honorees and guests dined and danced in the Reagan Center's Atrium Ballroom to the award winning music of Edwin Ortiz y Orquesta La Romana.

Olender Foundation President Jack Olender is widely recognized as one of the country's leading malpractice lawyers. As President of The Washington Malpractice Law Firm, Jack H. Olender & Associates, he has prosecuted to a verdict or settlement approximately 200 cases upwards of a million dollars each. Along with three members of his firm, he has been elected to Best Lawyers in America 2008.
Get Top Stories Delivered Weekly
Recent districtchronicles News Articles
Discuss This Article