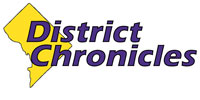 Post Classifieds
Trayvon inspired Obama to act like first Black president
By Raynard Jackson
On August 5, 2013
Obama's call for healing after the Zimmerman verdict was a strong outreach to Americans and Black Americans at the same time. Peter Souza/whitehouse.gov
In 2004, at the Democratic National Committee's presidential convention, I was mesmerized by Barack Obama, a little known state senator from Illinois. He electrified the convention and created a global buzz among those who watched on TV. In 2006, I was proud to see him elected to the U.S. Senate from Illinois.
In 2008, I was even more proud to see a Black man elected to be president of the United States. Americans throughout the U.S. celebrated this historic accomplishment. This was one of America's best moments.
In 2013, I am most proud that the first Black president finally seemed to find his voice before the American people on an issue that was of particular concern to the Black community. After more than four years in the White House, President Obama finally spoke to America and directly to Black America simultaneously.
For the first time, Obama did not lecture or speak down to Blacks. He spoke as one of us. He spoke from his heart to our hearts, to my heart.
He did not give a speech, for that would have been cynical and would have fallen flat. He simply exposed his soul to us; but he also allowed us to penetrate the veil that he had erected that prevented him from connecting with his own people. For the first time, he actually showed an emotional connection to the plight of Blacks in this country.
Lord knows, in my columns, I have been one of his biggest critics of how he interacts with the Black community. I would be nothing short of a hypocrite not to praise him for speaking directly to the American people in the aftermath of the George Zimmerman trial, especially in a way that connected to Black Americans.
He didn't take a position one way or the other on the jury's verdict; that wasn't the important thing at that moment. He spoke as president of all of America, but at the same time spoke directly to the Black community without separating the country. Non-Blacks of goodwill for certain will understand my statement.
This is the Obama I have been seeking for almost five years. It was quite obvious that Obama was touched by the emotions that were raging from within the Black community since the tragic night of Trayvon Martin's death.
Policy considerations aside, Blacks have always wanted Obama to show us that he understood the plight of being Black in America. We have wanted him to connect to our issues like he showed the residents of Newtown, Conn. after last year's school shooting.
Sometimes one can be so beat up that you just want someone to say, "I feel your pain, I understand what you are going through, "even if you can't make the pain go away. Nothing Obama said will bring Trayvon back. But for once, America saw its first Black president in public.
Some of my readers will not understand anything I am writing; it is not you to whom I am writing. Those with similar backgrounds and experiences as mine will understand intrinsically what I am saying. I don't expect some to understand why I behave the way I do when a policeman pulls me over or approaches me while I am parked.
Yes, America has come a long way since the days of Jim Crow and segregation; but please don't criticize our president or the Black community for wanting, every now and then, for the leaders of our country (regardless of color) to be touched with the feelings of our struggles.
Sometimes we just want to be told that together we will all be OK.
Raynard Jackson is president & CEO of Raynard Jackson & Associates, LLC., a Washington, D.C.-based public relations/government affairs firm. Reach him at www.raynardjackson.com or on Twitter at @raynard1223.
Get Top Stories Delivered Weekly
More districtchronicles News Articles
Recent districtchronicles News Articles
Discuss This Article