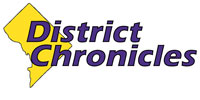 Post Classifieds
DC youth battle the bulges with "joy of motion"
By Lynnci Barnes
On May 8, 2012
Joy of Motion outreach programs get kids moving in hopes of fighting childhood obesity. joyofmotion.org
Chris Brown's "I Can Transform Ya" echoed in the halls of the ATLAS Performing Arts Center of the evolving H Street, NE, Corridor. Eight-year-old Avery Osman and her fellow five hip-hop dance classmates repeated the motions of their newest dance routine instructor Christina Huertas is teaching them. The parents of the young 3rd to 5th graders watched on the other side of the glass wall.
The children meet once a week, converging on the center from all over the Metropolitan area. Some are from nearby Northeast neighborhoods; others come from such far away areas like Forestville, MD.
Then the mood changed to match the change of music. The track had changed to "Someone Like You" by Adele, the newest British sensation to hit the American music industry. The slow tempo of the song became the pace of the ending stretches of this week's dance session. A perfect way to end workouts.
But these workouts have a noble goal - battling the epidemic of childhood obesity. The Centers for Disease Control have reported that the majority of children in America have not met the physical activity guidelines since 2008. They also reported that obesity in children could have major effects on health during youth and adulthood. Obesity is linked to heart disease, high blood pressure and type-two diabetes.
First Lady Michelle Obama has made fighting childhood obesity a personal crusade. In 2010, she embarked on a Let's Move national campaign to end what she calls the American plague of childhood obesity, blamed in part to modern day sedentary life style.
Let's Move has joined with hip-hop icons like Beyoncé, who altered her song "Get Me Bodied" to "Let's Move Your Body." The video and song, offers a plethora of different current and "old school" dance moves that get the children a fun reason for cardiovascular exercise. The song, which is a staple for the Let's Move initiative, is used nationwide where every state in America has at least one city or school that offers Let's Move programs.
But even before the First Lady's Let's Move national campaign, Joy of Motion Dance Company at the ATLAS center had formed and maintained six outreach programs for youth, with the help of outreach manager and Howard University alumna, Quynn Johnson.
Johnson, who is a dancer as well, continues to add schools and recreation centers to the list of 28 locations which offer Joy of Motion outreach programs free throughout the District.
The need for these programs and other healthier food choices that CDC has endorsed is highlighted by reports that in Washington, DC 35 percent of the children are obese. CDC has also reported that within a few years, one in every third child in the nation will be obese by time they are two years old.
With the help of long-time dancer, singer, actor phenomenon Vincent W. Williams, Joy of Motion is keeping the spirit of dance alive through Motion Express, one of the outreach programs. The program sends dance instructors to various schools all around the District. To Williams, even pre-schoolers need to jump on the Joy of Motion bandwagon. He teaches the impressionable and sponge like minds of preschool to third graders at Miner and Ludlow Taylor Elementary schools in Northeast, DC. He is also an instructor in the summer yearly program, Step Ahead that Joy of Motion offers DC teenagers.
Williams grew up in Southeast DC, but has danced his way around the world, including Milan, Italy.
"Once you get used to moving and those endorphins kick in, it's addictive, I don't care who you are," Williams told The District Chronicles.
Besides, he said, moving and dancing instills a little nugget of discipline, self-esteem, and health awareness in his young students.
"You're on top of your body, when you feel like that, you feel like you're on top of the World," he said.
On the Net: http://joyofmotion.org/outreach.php.
Get Top Stories Delivered Weekly
More districtchronicles News Articles
Recent districtchronicles News Articles
Discuss This Article