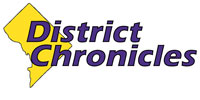 Post Classifieds
Dunbar and Woodson advance to Turkey Bowl
By David Steinbacher/Contributing Writer
On November 25, 2007
Paying your bills on time will contribute towards good credit.
In the prestigious DCIAA Football Semifinals, perennial powerhouse Dunbar defeated Anacostia 41-0 and H.D. Woodson turned back Coolidge 34-13. Both games were played November 17 - at McKinley Tech in Northeast D.C.The Dunbar Crimson Tide scored on their first three offensive possessions and never looked back in thrashing Anacostia 41-0. West "top-seed" Dunbar, coached by veteran Craig Jefferies, improved to 9-3 on the season East "second-seed" Anacostia, coached by veteran Willie Stewart, dropped to 5-7.
In the high octane first quarter, the Crimson Tide received the pigskin early on - courtesy of an interception by senior corner back Robert Stewart. One play later, junior QB Tyree White connected with junior wide receiver Deon Long on a 32-yard scoring strike. Although the kick was no good - the "Black, White and Red" led 6-0 and never looked back.
Following an Anacostia punt, the Crimson Tide embarked on a three-play, 23-yard drive and found the end zone a second time when junior running back Charles Siler scored from 13 yards. In a stunning "two-point conversion" 6'2" - 320 pound lineman Davon Hungerford scored via a run to increase Dunbar's lead to 14-0. Following yet another Anacostia punt, Dunbar scored again in the opening quarter when Tyree White connected with Deon Long on a 20-yard strike.
"On both of my scores, Tyree made some good throws," said Deon Long. Following another "two-pointer" - the Crimson Tide took a commanding 22-0 lead.
Neither team scored in the second quarter. After intermission, Dunbar put three more TD's on the board - widening to 41-0.
In the other semifinal, H.D. Woodson clobbered Coolidge 34-13. The top-seed in the East Warriors, coached by veteran Greg Fuller, improved to 8-3; second-seed in the West Colts, coached by veteran Jason Lane, dropped to 6-5.
Defense set the tone all game long for H.D. Woodson. Warrior defensive coordinator Cliff Reid commented: "We knew they were going to throw the ball today. We wanted to make sure we defended the corner routes."
Woodson bolted to a 22-7 halftime lead and never looked back. Warrior first half scores, were tallied by junior running back Ronald Nicholson, junior wide receiver Joelil Thrash, and senior running back Chris Jackson.
Senior running back Terry Reese gave the Colts their first half score. But Woodson surged ahead 34-13 in the third quarter and neither team scored in the final quarter. Senior wide receiver Tavon Wilson and junior running back/kick returner Kayvone Spriggs registered second half HDW scores. Terry Reese scored for the Colts in the second half.
Dunbar will meet H.D. Woodson in the 2007 Turkey Bowl on Thanksgiving Day at Eastern High School.
Get Top Stories Delivered Weekly
More districtchronicles News Articles
Recent districtchronicles News Articles
Discuss This Article