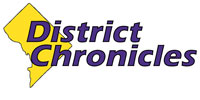 Post Classifieds
Same-sex marriage divides Black ministers
By Freddie Allen
On November 4, 2012
Local clergymen Reverend Coates (center), Rev. Howard-John Wesley (l) along with Rev. Al Sharpton show support for marriage equality at a press conference. nnpa.org
WASHINGTON (NNPA) - The heated debate over same-sex marriage has created a Red Sea-like divide among Black ministers that has serious implications for President Obama's re-election bid.
As Black some pastors express fervent support for same-sex marriage, others are sticking by their guns - at least their Bibles - in arguing that homosexuality is contrary to the teachings of the Bible.
"For too long, the issue of equal treatment under the law for gay and lesbian couples has been mired in theological debate between those on one hand who oppose same-sex marriage based upon their religious beliefs and those on the other who affirm it based upon their [beliefs]," said Delman Coates, Senior Pastor of the Mount Ennon Baptist Church in Clinton, Md.
Coates described the dilemma that many religious leaders find themselves in.
"While people of faith have a right to be in the public square, we do not have the right to impose our personal religious beliefs on others in matters of public policy," he explained. "Marriage equality is primarily a public policy issue and not a theological one."
In September, nearly a dozen Black ministers from across the nation gathered at the National Press Club in Washington, D.C. in support of "Question 6," the marriage-equality referendum on the ballot in Maryland that would legalize gay marriage in the state.
As the group of Black pastors gathered at the National Press Club to proclaim that marriage is a civil right - an apparent attempt to nullify the Biblical opposition to homosexuality and gay marriage - other pastors leaned on God's Word, preaching that marriage is a union between man and a woman, period.
Rev. Anthony Evans, the president of the National Black Church Initiative, a network of Black and Latino churches focused on healthcare, education and housing, said that President Obama's announcement of his support of gay marriage was "immoral" and "political" and most likely had little to do with Christian tenets that established marriage between a man and a woman.
Black pastors such as Coates see same-sex marriage as a public policy issue, not a Biblical one. That's a position shared by President Obama.
In May 2012, in an interview with Robin Roberts for ABC News, President Obama said his support of same-sex marriage is merely following the "golden rule."
But Denny Burk, an associate professor of Biblical Studies at Boyce College the Southern Baptist Theological Seminary and associate pastor of Kenwood Baptist Church in Louisville, Ky., disagrees.
Burk wrote on his website: "Neither Matthew nor Jesus intended the [g]olden [r]ule to be a permission slip for debauchery. 'Doing unto others as you would have them do unto you' does not nullify the Bible's clear teaching about marriage and sexuality. The Sermon on the Mount affirms and intensifies Old Testament sexual norms (e.g., Matthew 5:27-30). Moreover, Jesus himself affirms the creation principle that defines marriage as the union of one man and one woman (Matt. 19:4-5; cf. Gen. 2:24). To imply that Jesus would have supported gay marriage has no basis in the text of scripture. In fact, Jesus stands against it."
Some theologians contend that Jesus' never addressed homosexuality or gay marriage directly, and Coates said that leaves room for different interpretations.
To opponents of same-sex marriage, there is nothing broad of unclear about Biblical teachings.
Frequently cited is Romans 1:26-27: "For this reason God gave them over to degrading passions; for their women exchanged the natural function for that which is unnatural, and in the same way also the men abandoned the natural function of the woman and burned in their desire toward one another, men with men committing indecent acts and receiving in their own persons the due penalty of their error."
Although it's been reported that some Black pastors are choosing to stay home rather than vote for a Mormon or a president that supports same-sex marriage, most Black pastors said that the right to vote is too important to waste.
"As dangerous as voter apathy is also voter ignorance," said Howard-John Wesley, Senior Pastor of Alfred Baptist Church in Alexandria, Va. "It's very easy to stereotype and use hatred and fear to create voter ignorance to allow them to vote off of one issue. We are under command to inform intelligence so that the heart and soul can vote on a full scope."
Pastors on both sides of the issue agree on that point. Evans said that he warned NBCI ministers that if any of them told parishioners to stay home on Election Day, they would be sanctioned and kicked out of organization.
"The bottom line is we died to have the right to vote whether or not we have good choices," Evans added. He concluded, "We'll be fighting this issue for a long time until Jesus comes."
Get Top Stories Delivered Weekly
More districtchronicles News Articles
Recent districtchronicles News Articles
Discuss This Article