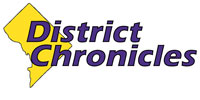 Post Classifieds
Politics fuels debate on pain at gas pump
By George E. Curry
On April 2, 2012
As gas prices rise, many Americans are unaware of how little goverment can do to fix it. jurisdynamics.blogspot.com
Republicans are so intent on defeating President Barack Obama in November that they have accused him of deliberately raising the price of gasoline.
Obama pointed out the ridiculousness of that argument during a recent news conference. Replying to a question from Ed Henry of Fox News, Obama said: "Ed, just from a political perspective, do you think the President of the United States going into re-election wants gas prices to go higher?" Obama said. "Is there anybody here who thinks that makes a lot of sense?"
But Republicans and journalists employed by conservative news organizations are not the only people blaming the President for high gas prices, hovering around $3.80 a gallon, a 29.5-cent increase over last month.
A CBS/New York Times poll this month found that 54 percent of Americans believe the President "can do a lot about" gas prices. Consequently, Obama saw his job-rating drop from 50 percent in February to 41 percent this month, a period that coincides with rising gas prices.
Republican presidential contenders are also pointing the fingers at Obama, with Newt Gingrich promising policies that would bring gas down to $2.50 a gallon.
"Any politician who says that is lying," retorted White House Press Secretary, Jay Carney. "That strategy does not exist. "There is no such plan that can guarantee the price of oil or the price at the pump."
Gas prices are set on the world market, not 1600 Pennsylvania Avenue, Carney explained.
According to the U.S. Energy Information Center, the cost of crude oil accounts for 76 percent of the price of a gallon of regular gas. Refining costs and profits are responsible for 6 percent; distribution marketing and retail costs add another 6 percent and taxes contribute another 12 percent.
As Steven Mufson writes in the Washington Post, "Today's oil prices are the product of years and decades of exploration, automobile design and ingrained consumer habits combined with political events in places such as Sudan and Libya, anxiety about possible conflict with Iran, and the energy aftershocks of last year's earthquake in Japan."
Writing on her Facebook page, Sarah Palin accused President Obama of "allowing America to remain increasingly dependent on imports from foreign oil regimes in dangerously unstable parts of the world."
But FackCheck.org noted that the U.S. imported 2.3 million barrels a day from 13 countries in the Middle East in 2012, down from 3 million barrels a day in 2008. There was an 8 percent decline in imports from Africa.
"The U.S. actually imports more petroleum from our northern neighbor, Canada, than it does from any other country," the fact-checking organization stated. "And Canada does not appear on the State Department's list of 'dangerous or unstable nations.' Nor do Venezuela, Russia, Angola, Brazil, the United Kingdom, Ecuador, the Virgin Islands or Kuwait, which are all in the top 15 countries from which the U.S. imports oil and other petroleum products."
This is the kind of perspective largely missing from news coverage of the issue, according to Media Matters, the watchdog group. It reported, "In total, 63% of those interviewed or quoted on gas prices by cable outlets were political figures (including politicians, strategists, White House officials and campaign advisors), and only 13% were economists or oil industry experts."
Americans tend to have short memories. Gas was $1.89 when Obama first assumed office. But just six months earlier, it was $4.11 under President George W. Bush, according to GasBuddy.com.
Republicans, with a "drill, baby, drill" mentality, have attacked President Obama for not issuing enough permits to drill. However, the drilling-rig count is twice as high as it was in 2009.
In his weekly radio address last Saturday, President Obama said gasoline prices are part of a larger issue.
"The recent spike in gas prices has been another painful reminder of why we have to invest in this technology," he said. "As usual, politicians have been rolling out their three-point plans for $2 gas: drill, drill, and drill some more. Well, my response is, we have been drilling. Under my administration, oil production in America is at an eight-year high. We've quadrupled the number of operating oil rigs, and opened up millions of acres for drilling."
He continued, "But, with only 2 percent of the world's oil reserves, we can't just drill our way to lower gas prices - not when we consume 20 percent of the world's oil. We need an all-of-the-above strategy that relies less on foreign oil and more on American-made energy - solar, wind, natural gas, biofuels, and more."
Get Top Stories Delivered Weekly
More districtchronicles News Articles
Recent districtchronicles News Articles
Discuss This Article