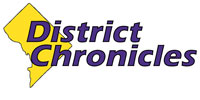 Post Classifieds
Edwards pushes Wilson High to higher goals
By Anuli Akanegbu
On January 21, 2013
The 'Future Shop' at Woodrow Wilson High is one of a kind in the District. Anuli Akanegbu
It is a Tuesday afternoon at Woodrow Wilson High School in Northwest Washington, DC. The school bell rings promptly at 3 p.m. to signal the end of yet another school day. Moments later, students begin to trickle into the first floor office of The Future Project.
The Project is a non-profit organization that matches high school students or "Future Fellows" with community members or "Future Coaches." Its goal is to transform the face of education by creating community-oriented projects fueled by the passions of students.
The organization started in October 2011. It already boasts over 1, 000 students at eight schools in Washington, DC, New York City, and New Haven, CT.
Wilson is the only school The Future Project works with in the District. This makes Shantae J. Edwards the only person in the District who answers to the title of Dream Director.
"You see how filled up this room is when Ms. Shantae's here?" exclaimed a student walking into The Future Project's office.
Hip-hop music starts to fill the room, stream into the school's hallways as students help themselves to chips, candy, juice and water.
From the outside looking in, Edwards' relationship with the students is much like that of the "cool older cousin." She's old enough to warrant the students' respect, but hip enough to keep it.
Oddly, Edwards, 27, would hardly describe herself as "cool." "In high school I was too smart to be cool," Edwards explained. "I was bullied everyday."
Edwards was raised in the west side of Chicago and was the eldest of seven children in a single-parent household. She described her childhood as humbling and tiresome. She often cared for her younger siblings while her mother worked to support the family.
Her time at Chicago's Richard T. Crane High School was particularly difficult. Edwards remembers not being able to afford the latest clothes and making do with what she had. Breast cancer struck her mother in her sophomore year in high school.
Still, Edwards excelled in high school, graduating as valedictorian of her class. College was equally trying. She worked three part-time jobs to support her family. She graduated from the University of Illinois at Urbana-Champaign in 2008, with a Bachelor's degree in communications and a minor in Afro American Studies.
Looking back, Edwards wishes she had someone in her life to advise her to take time to relax and live life while in college.
As the Dream Director for The Future Project she is able to be that someone for students at Wilson High School.
"Shantae can relate to the backgrounds of many young people in DC. DC youth have the Capitol in their backyards, but it doesn't always mean they know what is available to them," said Sallomé Hralima, chief Dream Director for The Future Project. "When we were recruiting for possible dream directors, she was at the top of our list."
Edwards, who speaks through her heart as much as her hands, excitedly describes first hearing about the role in early 2012.
"You give me permission to dream? You give me permission to follow my passions? Oh my gosh, that's unheard of," exclaimed Edwards.
Prior to applying for the position, Edwards had been feeling unmotivated in her job at College Summit, another education-focused non-profit organization.
"I was so unmotivated for the past year and a half trying to figure out life that I didn't realize it was because I was in a job I was unhappy with," explained Edwards. "I was committed to the organization, but not to myself."
It's an hour after the end of the school day at Woodrow Wilson. Fifteen future fellows and coaches are now seated in a circle in a fourth-floor classroom. In a couple minutes Edwards, a self-described "Certified Passion Pusher" will lead another one of her Future Shops.
Future Shops are weekly after-school open discussions centered around a topic. On this day, the topic was, "What is your legacy?"
"It's good to get to know everyone because we don't really know each other," said Wilson junior, Asha Shittu. "Ms. Shantae is funny and energetic. She really brings the life to it."
A student excitedly runs into the classroom, straight to "Ms. Shantae." She informs Edwards that she had just been offered a part-time job. The two exchange hugs and celebratory high-fives.
"My dream is that when children are asked what they want to be when they grow up they say 'dream director,'" said Hralima.
Get Top Stories Delivered Weekly
More districtchronicles News Articles
Recent districtchronicles News Articles
Discuss This Article