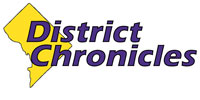 Post Classifieds
Background singers enjoy the spotlight in new documentary
By Dwight Brown
On July 2, 2013
The film spotlights background singers the likes of Darlene Love and Judith Hill (pictured). judithhill.com
They can sing a joyful noise in pitch-perfect harmony, never missing a beat. Yet they rarely take center stage. Background singers, are the unsung heroes of music. Without them, lead singers sound hollow. Now their voices are heard, in an enlightening documentary that is as illuminating as it is thoroughly entertaining.
Back in the day, backup singers just sang the notes on the page. In the '60s, a new breed of singer evolved and these divas sang from the heart.
Darlene Love is one of the godmothers of the genre. Says Love, "God gave me this talent and I intended to use it."
Love led the background group the Blossoms, who were introduced to the world on the '60s musical TV show, Shindig. Love was the one in the center, with the puffy red hair who wailed like a gospel singer but sang rock, pop and soul music. You may not recognize her face, but you know her voice.
She sang lead on the Crystals record "He's a Rebel." Phil Spector, yes that homicidal Svengali who is now in prison for murder, was her boss and mentor. He kept her in a box. She never received credit for what she did, but everyone in the music industry knew who she was. Love's story is just one of many, but a fair archetype for the lives of backup singers who hid in shadows, recorded in dark studios but nonetheless left indelible impressions in pop culture.
Background singers have the chops, the ear, the voice, the skill. Yet, quite often, they're missing that killer instinct, relentless drive or the inane ability to walk in a room and take it over. That desire to steal the spotlight is an intangible element that can make solo artists with crappy voices (e.g. Madonna) superstars, and skilled musicians with golden throats, enigmas.
Claudia Lennear, background singer for Ike and Tina Turner and girlfriend of Mick Jagger (he purportedly wrote "Brown Sugar" about her), was a Playboy Centerfold in her heyday. She is now a conservative, Spanish language schoolteacher. Lisa Fischer, a monster musician who hears notes only dogs can hear, started out as a background singer, and won a Grammy in 1991 for her single "How Can I Ease the Pain," off her debut album.
The personal stories of these talented artists might seem like shallow, two-dimensional profiles fit for VH1 drive-bys. With director Morgan Neville at the helm and Gil Friesen, an A&M executive who has since passed on, as producer, these musicians' stories are given a reverence normally reserved for legends. Many on the interviewees came of age in the '60s and '70s, and their experiences reflect those transformative times, as they dealt to race, segregation, gender, class, civil rights and social issues.
Two years in the making, and with 50 interviews under its belt, this thorough, well-paced (editors Jason Zeldes, Kevin Klauber), decently shot (Nicola B. Marsh and Graham Willoughby cinematographers) mélange of archival footage, photos, live heartfelt interviews and singing sessions is pure joy for the eyes, ears and mind.
An obvious exception to the rule about background singers never becoming viable solo artists, was Luther Vandross, who was most noted for singing backup on David Bowie's Young Americans, before winning Grammys for his solo career. He left a trail that few can follow, though they try. Judith Hill was one of the top 10 competitors on this season's "The Voice" TV show. She's most noted for singing with Michael Jackson on the documentary "This Is It," and at his funeral. She is the poster child for skilled background singers finding it difficult to make the transition. She was voted off the program long before other singers with far less talent.
This doc is revealing, ironic, historic and transcendent. As you find out who sang back up on Whitney Houston's "Greatest Love of All" (The Waters Family), who became a housekeeper scrubbing other people floors when her career collapsed (Darlene Love) and who sang lead on an Oscar-nominated song from the movie The Color Purple (Tata Vega), you will be inspired by their courage, resilience and determination.
Get Top Stories Delivered Weekly
More districtchronicles News Articles
Recent districtchronicles News Articles
Discuss This Article