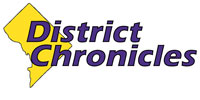 Post Classifieds
Metro Brief: NPS action and Occupy response today show good contrast to many other cities
On February 5, 2012
WASHINGTON, DC – Congresswoman Eleanor Holmes Norton (D-DC) today said that Occupy DC protestors and the National Park Service (NPS) appear to be engaged in "a mutual effort, each to accomplish its mission peacefully without violence or disruption." She said that she knows officials and city residents appreciate that NPS has enforced regulations against camping with professionalism and sensitivity, and that Occupy DC protestors largely are putting their purpose to end growing economic inequality ahead of the temptation to resist police. At a recent House hearing, Norton defended NPS and Occupy for avoiding the confrontations with police seen in other cities.
After speaking today with NPS officials, Norton said, "The National Park Service appears to be keeping its word to allow Occupy DC to maintain its round-the-clock presence, in keeping with the Occupy theme, and to respect their First Amendment rights. The Occupy DC protestors, for the most part, in turn have engaged in a good amount of self compliance that shows respect for the cause that brought them to McPherson Square."
Norton said today's action stands in contrast to the violence and disruption that have characterized the same demonstrations in some cities. "The thought-through action of the Park Police today is an example of real-time good policing, and, for the most part, the response of Occupy has been in the tradition of non-violent, disciplined protest," she said.
Norton noted that there have been only a few arrests and that NPS told her before proceeding with enforcement that they were looking only for individual camping violations. NPS spent the week in communication with Occupy, including passing out fliers concerning the regulations against camping in federal parks, and indicating that otherwise, protestors could continue their occupation.
"The discipline on both sides has been especially important here in the nation's capital, the epicenter of national protest demonstrations. Today's action, so far, is sending a message throughout the world about how police work in Washington and also about what we expect of demonstrators," Norton said.
www.norton.house.gov
Get Top Stories Delivered Weekly
More districtchronicles News Articles
Recent districtchronicles News Articles
Discuss This Article