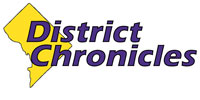 Post Classifieds
Baltimore last stop for Kinsey Collection exhibit
On September 30, 2013
Musician Talib Kweli narrates the story of Henry Butler in a film series campaign that highlights the Kinsey Collection. Wells Fargo
Wells Fargo concludes a year of celebrating the 150th anniversary of the Emancipation Proclamation as its national tour of The Kinsey Collection: Shared Treasures of Bernard & Shirley Kinsey - Where Art & History Intersect makes way to its final stop. The exhibit contains a world-class collection of art and artifacts chronicling African- American history and culture dating back to the 1600s, including an early copy of the Emancipation Proclamation.
In partnership with some of the nation's leading African American museums, the tour officially launched during Black History Month at the Museum of the African Diaspora (MoAD) in San Francisco, CA, before moving on to The Harvey B. Gantt Center in Charlotte, NC where it will be until October 12, 2013. The tour concludes at the Reginald F. Lewis Museum in Baltimore with the exhibit on display from November 2 through March 2, 2014.
"The appreciation of culture, diversity and human rights is at the heart of our vision and values," said Andy Bertamini, Wells Fargo's Regional President for Maryland. "Creating this national tour provided Wells Fargo with the perfect opportunity to encourage conversations about the value of diversity and inclusion while allowing us to recommit to the fundamental principles of equality that promote community, mutual understanding and shared success."
In addition to hosting the nationally acclaimed exhibit at the Reginald F. Lewis Museum, Wells Fargo will present special events in Baltimore in conjunction with the museum. Activities include a lecture on African-American history featuring Bernard and Shirley Kinsey, as well as special events hosted in partnership with community organizations.
"I am especially excited about the Kinsey collection because it is the perfect example of how art can be used to explain history. It is a privilege for us to bring an exhibition to Maryland that has gained so much prominence throughout the country," said Dr. A. Skipp Sanders, executive director of the Reginald F. Lewis Museum.
Bernard Kinsey, avid collector, philanthropist and educator, began this collection over 35 years ago with his wife Shirley and son Khalil. Bernard was inspired to begin his collection after viewing an original bill of sale of William Johnson sold for $550 in 1832.
"The Kinsey Collection strives to give our ancestors a voice, name and personality, enabling the viewer to understand the challenges, obstacles, triumphs and extraordinary sacrifice of African Americans who've greatly contributed to the success of this country," said Bernard Kinsey.
As an extension of the celebratory campaign, Wells Fargo recently launched the Untold Stories: Our Inspired History campaign. The campaign features a four-part short film series narrated by celebrity influencers, Jordin Sparks, Lauren London, Lance Gross and Talib Kweli taking viewers through specific points in history highlighting artifacts from The Kinsey Collection. The campaign also extends into the social media space with the launch of multiple video vignettes featuring prominent lifestyle bloggers sharing their personal stories.
For more information or details on the Untold Stories: Our Inspired History campaign, please visit www.wellsfargo.com/kinseycollection.
For a limited time, customers wishing to "own a piece" of the collection can personalize their Wells Fargo debit and/ or credit card with a select piece of art from The Kinsey Collection. Customers can visit Wells Fargo Card Design Studio at: www.wellsfargo.com/carddesignstudio and select Kinsey Art in the image library.
Wells Fargo customers can take advantage of free admission to the Reginald F. Lewis Museum on Wells Fargo Customer Appreciation Days with photo identification and any valid Wells Fargo credit or debit card. This offer is valid on the second Saturday of the month, December 2013 through February 2014.
Get Top Stories Delivered Weekly
More districtchronicles News Articles
Recent districtchronicles News Articles
Discuss This Article