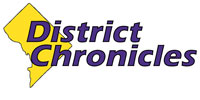 Post Classifieds
Cedric the Entertainer: new face of "Who Wants to Be a Millionaire"
By Edward Rice III
On September 30, 2013
Cedric the Entertainer is the third person to host the game show. lasentinel.net
Another "King of Comedy" has joined the ranks of game show host this month. Cedric the Entertainer replaces Meredith Vieira as the host of, "Who Wants to Be a Millionaire," now in its 12th season in syndication.
"I'm excited about being the guy that's there to host you through it. And it's been fun so far. I think it's going to be a great way for America, who doesn't know me, to get to know me; and for those who do, to enjoy me on a daily basis," said Cedric, a St. Louis native.
With all the work that he's been doing recently on the small and big screen, it's hard to imagine that there are people left in America who don't know him. You can currently catch the L.A.-based actor, starring as the Reverend Boyce "The Voice" Ballentine on the hit TV Land sitcom "The Soul Man," which he also serves as co- creator and executive producer. And while you may not have seen his face, you may have recognized his voice as "Leadbottom" in Disney's recent animated hit film "Planes."
"You know it's great for me because we're able to shoot 'Millionaire' in blocks of time, we just shoot a bunch of shows back-to-back-to-back ... works out for me that this is a great time of year for me to be in New York doing the show...," he said.
With a comedy pedigree such as that of Cedric the Entertainer, you can expect he will navigate the audience through the funny, offbeat moments and the tension-filled, nail-biters that 'Millionaire' is famous for with ease.
"I think the main thing is to be pretty observational - to be watching people, to listen to their answers; and then to make comments that either exaggerate the humor on something that they said - it could be a very serious answer or the ability to lighten up a moment when it's just too intense, and it's getting a little too heavy," Cedric explained.
As the third host in the history of the popular game show, "Millionaire" fans can expect Cedric to incorporate the best of his predecessors, while bringing his own unique brand of comedy to the show.
"I'm going to kind of take a little combination of the two, and of course adding a lot more humor to it. I plan on encouraging people to play the game impressively as well as having a good time with them when they're kind of thinking of their answers, or responding to their answers with humorous comments. And that's - I think that's what you'll see of the difference. It'll feel a lot more kind of upbeat and exciting, I believe, with me as the host."
As Cedric becomes acclimated to his new role as host unfortunately he won't able to phone a friend (that's no longer an option on the show), however he did reach out to fellow comedian Steve Harvey for hosting tips.
"Steve's advice mainly was just try to relax and be yourself. 'You have to' - he was saying, 'you're going to go into a lot of homes that you have no idea you've never been in before.'"
Get Top Stories Delivered Weekly
More districtchronicles News Articles
Recent districtchronicles News Articles
Discuss This Article