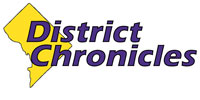 Post Classifieds
Metro Brief: Local county celebrates 25 years of community service
Montgomery County
On October 16, 2011
Local residents are invited to make plans now to give a few hours of their time to their community by joining family, friends, neighbors, fellow students and co-workers during Community Service Week which kicks off on Saturday, October 16 and runs through Saturday, October 22.
"For a quarter of a century, County residents have been rolling up their sleeves to give their own time, energy and talents to help our neighbors in need and make the County an even better place to live and work," said County Executive Isiah Leggett. "Where will you serve?"
Now celebrated nationwide as Make a Difference Day, the annual day of service was created by former Montgomery County Councilmember Bruce Adams in 1987. Adams, who, for the past five years has served as director of the County's Office of Community Partnerships, created the day to increase awareness of the value of volunteerism in building a stronger community. Since 1987, nearly 100,000 County residents have devoted hundreds of thousands of hours of service to their communities while saving the County millions of dollars in public expenditures for needed projects and services.
To celebrate the 25th anniversary, the Montgomery County Volunteer Center has made it a goal to engage 25,000 people to volunteer their service around the County during the week of October 16 – 22. There are many options for volunteering, including developing a project or registering for one of the many opportunities offered by nonprofits through the Volunteer Center's website. Go to www.montgomeryserves.org, and click on the Community Service Week link. This site also lists organizations hosting collection drives for food, clothing and other items.
The kick off for Community Service Week will take place at the World of Montgomery Festival in downtown Wheaton on Sunday, October 16 from noon to 5 p.m. The week will end with the Silver Anniversary Celebration of Community Service Day on Saturday, October 22 from 5 to 7 p.m., at Veterans Plaza in downtown Silver Spring. Other Community Service Week activities include the Volunteer Engagement Expo at White Flint Mall on Saturday, October 15 from 1 to 5 p.m. and service projects taking place on Saturday, October 22 from 10 a.m. to 2 p.m. at the Silver Spring Civic Building, One Veterans Place.
Following are a few examples of volunteer projects needing workers during the week:
White Oak – Sunday, October 16
Clean Water Fund is partnering with residents of the White Oak community to conduct a community clean up on Sunday, October 16 at 9 a.m. Volunteers should meet at the corner of Old Columbia Pike and Stewart Lane. Contact Victor Ukpolo at 301-377-4999 or yukpolo@cleanwater.org.
Silver Spring – Monday, October 17
Join YMCA Youth & Family Services (YFS) from 11 a.m. to 2 p.m. for Forest Glen Fix-Up Day. YFS provides school and community based prevention and early intervention services to at-risk and under-served children and families from across Montgomery County. Activities will include landscaping work, power washing, window washing andmore. Call Carson Henry at 301-587-5700, ext. 2576.
Rockville – Thursday, October 20
Bikes for the World is loading a container of about 500 bikes to be shipped to Uganda. Volunteers are needed to help roll bikes onto the truck and process bikes for shipping. Contact Nick Colombo at 301-461-5349 or nick@bikesfortheworld.org.
Brookville – Saturday, October 22
Want to make a difference that thousands of people will see each year for the next 50 years? Help plant azaleas at the Washington Suburban Sanitary Commission's Azalea Garden. Contact Kim Knox at 301-206-8233 or kknox@wsscwater.com.
Countywide – Saturday, October 22 and Sunday, October 23
Donations for the Manna Food Center will be collected throughout the weekend at area Giant Food locations. Anyone interested in volunteering should contact volunteer@mannafood.org.
Community Service Day is one of the Volunteer Center's three Seasons of Service days created to encourage volunteering and the spirit of giving among county residents.
For more information, visit www.montgomeryserves.org, or contact the Montgomery County Volunteer Center at volunteer@montgomerycountymd.gov or 240-777-2600.
Get Top Stories Delivered Weekly
More districtchronicles News Articles
Recent districtchronicles News Articles
Discuss This Article