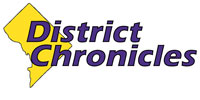 Post Classifieds
Howard student recalls marching to save Troy Davis
By Raina L. Baker
On October 23, 2011
Howard students protest for Troy Davis outside the gates of the White House. thejasminebrand.com
On September 21, 2011 I marched for Troy Davis, a 20-year inmate on death row for a crime he possibly did not commit. By the time I got home around 10 o'clock at night, my wrists were sore from being handcuffed, my feet blistered from marching for hours in day-old boots.
After my morning reporting & writing class in the School of Communications, I walked up the hill to meet other Howard University students at the flagpole. It was 12:31 and saw that students, protesters, activists were beginning to congregate. Signs that read, "Save Troy Davis," "No to Legal Lynching" stood like giants.
We began the march to the White House after a few more statements about justice and the inhumanity of the death penalty were made. The day seemed to grow hotter and we continued to march. Carrie Henderson, a senior telecommunications management major from St. Louis, Missouri was by my side near T Street, NW. Another friend and sister, Jalisa Goodwin, an English major from Lorraine, Ohio, pulled up in a car next to us. She had the opportunity to get straight to the protest without walking in the heat, but instead chose to get out of the car to walk with us. We came to a consensus that it means so much more to struggle and to be a bit uncomfortable when fighting for the comfort of the masses.
The protest paraphernalia started to draw a lot of attention and people began to mumble under their breath, "Who is Troy Davis?" I remember swallowing the saliva in my mouth in preparation to tell his story to the passersby and to give further information about the protest and where a petition could be signed but before I uttered a word my sister, Jalisa, said, "You are Troy Davis." That was the best way to consolidate all that I was prepared to say.
Some of responses from people in the community gave me hope. Some were completely disheartening.
I planned to go to my morning class, head to the White House to protest and leave at 4:30 pm to head to work. I was hired as an in-home child care provider. I had just got the job the previous day so it was not in my plan at all to miss work. I think that God laughs at us when we try to plan so strategically because things never seem to go as planned. When we finally made it to the White House my feet were so tired. I cursed the boots I wore and said that I would never wear them again. I just wanted to take them off and march in my socks.
The security officers told the students that only 25 people could be that close to the White House and that we had to move. Some asked the question, "when schools bring students here for tours do you only allow 25 students to walk by the White House at the time." I recalled the scenes of masses of jubilant demonstrators outside the White House and on Capitol Hill the day American Special Forces captured and killed Osama Bin Laden. There were people chanting, shouting and celebrating the death of a man. Certainly there were more than 25 people in front of the White House on that day.
We sat in a circle, an Afro-centric symbol of unity, change and evolution. We formed our circle and took arms. We prayed. We cried. And we laughed. At that moment I felt some solidarity with my peers.
We were all hand cuffed one by one. There were 12 of us. I was the second to be cuffed. As the female officer removed all of my earrings and searched me thoroughly in almost every crevice of my sweating body, I felt like I was being auctioned off into slavery. But the moment was beautiful and so worth it. Howard University Professor, Tony Medina joined "The Howard 12" to make it "The Howard 13," a number feared as bad luck in Western culture. But in other cultures it represents completion. To us it represented a sacred power.
The ride to the Anacostia Precinct was most uncomfortable and painfully hot. We did not know that the more you moved once cuffed, the tighter the cuffs became. That experience served as a microcosm to the struggle. The room where we were held smelled stale, looked like a garage and felt like an interrogation scene from a movie.
The officers were so discombobulated and confused. Eventually we were given a $100 citation. We were told that we could arrange to have a court hearing, pay the fines right then and there or pay within 15 days.
I decided that I wanted to go to court. I wanted tot ell the judge why we were protesting. I wanted to become intimately familiar with the story of Troy Davis and those like him.
This harrowing experience also made me think of my daddy who died on August 2, 2010. He so very often would tell me to, "Be fearless in all things. The Earth is the Lord's and the fullness thereof."
Get Top Stories Delivered Weekly
More districtchronicles News Articles
Recent districtchronicles News Articles
Discuss This Article