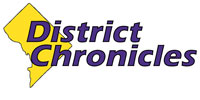 Post Classifieds
Howard senior leaves gang life for books
By Ke'Andrea Ayers/Contributing Writer
On August 22, 2010
Holy Smoke's challenge is convincing Christians, who usually opt for burial over cremation.
His heart pounding, David Castain's palms were wet with sweat as he sat in a room at the West Valley Detention Center near Los Angeles. It was June 2006, and the 18 year old was facing up to six years in prison for an alleged robbery. This wasn't his first time in police custody. He had previously been arrested for petty theft, driving without a license, and unpaid tickets.

While spending the day in that detention center, Castain, now a junior speech and applied student thought to himself, "My life is over." "Everything just looked sad and cold," Castain said. "I went to jail before, but when I walked in this time, I just knew I wasn't walking back out."

Castain was used to adversity in his life. He grew up in a single -parent household in Pomona, a Los Angeles suburb. Often, the family went months without electricity because his mother couldn't pay the bills.

The neighborhood that Castain grew up in was known as "Sin-town," home of the Sin Town Crips. The neighborhood was saturated with prostitutes and drug dealers.

Castain was kicked out of four high schools for consistently fighting and he eventually failed out. He was also in a gang prior to finally graduating in 2005.

College was never on his mind. "My whole mindset was that college wasn't for everyone," he said. Castain was arrested for fighting with a security guard at a K-Mart over headphones a customer service representative wouldn't let him exchange. The fight raised the criminal ante from shoplifting to robbery which California law defines as the felonious taking of property accomplished by means of force or fear.

Castain pleaded guilty, was credited for three months he has already spent in jail and was placed on house arrest for eight months.

One day while on house arrest, the mailman delivered the mail that would turn his life around. Castain was checking the mail when he saw college acceptance letters for his little sister, Taneshia in 2008. Taneshia was accepted into Spelman College and Clark Atlanta University but chose to attend Howard.

That made Castain start thinking hard about college, even though his high school academic record was dismal. Castain stopped hanging around his gang banging friends. He eventually lost contact with them while on house arrest. He began taking his academics seriously. He enrolled at San Joaquin Valley Community College and became quite the A student. He also got a job at Verizon Wireless as a sales associate to help his mom out with finances.

Castain was on the Dean's List and graduated with a 3.7-grade point average, earning an Associate's degree in business management in 2008. He applied to transfer to Morehouse, Clark Atlanta University and Howard University. He was accepted into all but chose Howard to be close to his sister.

Taneshia said her brother got into trouble in the past but she still looked up to him as her protector.

"He has learned to fend for himself and achieve greatness through his comedic personality, realness and loyalty," she said. "For that he is cherished anywhere he goes."

Castain is going into his senior year and is a Resident Assistant in the Carver Hall dormitory on campus. He credits his past for helping him get where he is. He experienced the life he doesn't want to live and that's what motivates him to do better, he said.

"I feel like everyone should grow up with a struggle," he said. "It gives you a different view on things and makes you grind harder. I feel like I can do anything I want to do now.
Get Top Stories Delivered Weekly
Recent districtchronicles News Articles
Discuss This Article