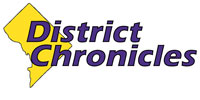 Post Classifieds
Metro Briefs: Capital Bikeshare hikes membership and casual fees
District of Columbia
On October 31, 2011
The new rates will accommodate casual members like visitors, tourists to DC. kateryanreports.blogspot.com
Capital Bikeshare is implementing several changes to its membership offerings, revised the cost of its 24-hour membership and introduced a new pricing structure for casual members.
Starting November 3, 2011, Capital Bikeshare will offer a 3-day pass for $15. The current 5-day pass will be discontinued. The change better aligns with the average stay of visitors to the metro region.
In addition, the cost of a 24-hour membership will rise from $5 to $7. The first 30 minutes of every ride will remain free for all members; however, usage fees for casual members (24-hour and 3-day memberships) will increase from the current rates by 33 percent for each subsequent half-hour increment. For example, whereas a 50-minute ride in the past accrued usage fees of $1.50, the fee will now be $2.00. An 80-minute ride that previously incurred usage fees of $4.50 will now be $6.00. For those trips that last longer than 90 minutes, every additional 30 minutes will cost an additional $8 rather than $6. A comprehensive breakdown of the new casual-user pricing structure is detailed below.
As a thank-you to the more than 18,000 members who have made Capital Bikeshare such a success in such a short amount of time, the cost of annual and monthly memberships will remain unchanged at $75 and $25, respectively. In addition, usage fees for annual and monthly members will remain the same.
The pricing changes affecting casual users are being implemented due to the expansion in the District and Arlington and the accompanying increase in cost to operate and maintain the system. The anticipated increase in revenue will allow Capital Bikeshare to maintain and improve its level of service and continue to build on all of the success of the first year.
Get Top Stories Delivered Weekly
More districtchronicles News Articles
Recent districtchronicles News Articles
Discuss This Article