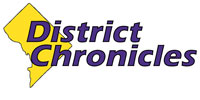 Post Classifieds
HU wins homecoming thriller in OT, 35-28
By Freddie Allen
On October 31, 2011
Howard University's rookie QB Greg McGhee threw for 242 yards and 2 TDs to lead the Bison in a stunning overtime victory over their conference rivals North Carolina A&T. The Bison defense made a crucial goal line stand to end the game, 35-28.
Both teams started slow and the defenses dominated in the first. Parker Munoz kicked a 33-yard FG to get Howard on the scoreboard late in the quarter.
The Bison controlled the ball with their running game and ate up huge chunks of the clock in the 2nd quarter.
After a 14-yard QB scramble and a short gain by senior TB No. 25 Terrence Leffall, McGhee connected with Willie Carter on a 6-yard pass for the TD. Howard added another Munoz FG to take a 13-0 lead into halftime.
The Aggies came out of the locker room fired up and took advantage of a whiffed punt and Howard penalties early. Working with a short field, NC A&T carved up Howard's defense, rushing for 14 yards and throwing for another 20, before Mike Mayhew punched it in from the 1-yard line.
The Aggies tasted the end zone again when Lewis Kindle hit Wallace Miles for a 20-yard catch and run. North Carolina's defense pitched a shutout in the 3rd quarter and the Aggies took their first lead of the game, 14-13.
On the sideline, Howard's squad seemed undeterred by North Carolina's 3rd quarter comeback. According to Carter, the Bison had been there before.
"When they started coming back, we knew that we had to step it up on offense to help out our defense," the senior wideout said.
McGhee drove the offense 76 yards, connecting with four different receivers on the drive. The battle-tested rookie hit Brandon Drayton for a 16-yard TD to cap the drive.
"As a freshman, he's way ahead of the curve," Carter said of McGhee. "Every week, he gets better and better. I can honestly say that he's gonna be one of Howard's greats."
Kindle and the Aggies answered quickly, driving 72 yards in 46 seconds. After a short quarterback run, Mayhew busted Howard's defense wide open with a 66-yard sprint to knot the score at 21.
The tie wouldn't last long. Howard freshman RB No. 20 Aquanius Freeman returned the 52-yard Aggie kickoff 82-yards for the game-breaking TD, as Bison fans erupted in Greene Stadium.
Once again the penalty monster reared its ugly head, biting 15 yards out of Howard's field. North Carolina started their next drive in Bison territory and finished with a 3-yard Ricky Lewis rush in the end zone.
As both offenses sputtered, overtime seemed inevitable.
The Bison started the extra inning at the Aggies 25-yard line. Following a short Leffall rush, McGhee took over, passing for 15 yards and rushing for 5 more. Three yards later, Leffall crashed into the end zone for the TD and Howard went up 35-28.
NC A&T scratched and clawed their way down to the 1-yard line before Howard DB No. 96 Sackie Kerkulah tackled Kindle on a broken play to end the game in dramatic fashion.
"Our coaches did a heckuva job preparing us for this game," McGhee said after making a victory lap with the Bison flag. "Everybody's happy and it feels great to get a homecoming win."
On Saturday, October 29, in their final home game of the season, Howard University will honor their senior players, when they host South Carolina State University.
Get Top Stories Delivered Weekly
More districtchronicles News Articles
Recent districtchronicles News Articles
Discuss This Article