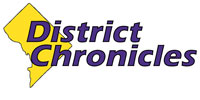 Post Classifieds
This time, Michelle Williams chooses her own destiny
By Kenya Vaughn
On November 1, 2011
Former Destiny's Child member Michelle Williams landed a starring role in Talbert's "What My Husband Doesn't Know.". popmusicmagic.wordpress.com
"I'm like okay God, is this what you want me to do, because I'm having so much fun," said singer/actress Michelle Williams. While her former Destiny's Child group mates Kelly Rowland and Beyoncé are holding their own in the music industry, Williams feels as if the stage is somehow tied to her purpose in the entertainment industry.
In 2009 she became the first African American lead on the London stage in UK production of Chicago and this weekend she comes to St. Louis as the co-star of David Talbert's latest play "What My Husband Doesn't Know" at the Fox Theatre.
"I love his work and the substance of his plays," Williams said of Talbert. "We've been trying to work together for six years."
When she was in rehearsal to take on the role of Shug Avery for "The Color Purple" on Broadway, she got the call that the stars were aligned. And Williams couldn't be more thrilled with the Talbert production she signed on to be part of the cast.
"The cast is amazing - I mean you have Ann Nesby, the legendary Clifton Davis, Morris Chestnut," Williams said. "We all get along. It's an amazing group. And the energy - Oh my God, I said to myself in the first rehearsal 'we've got a good show'."
But what Williams loves most about the show though is the message she feels the show will present to the audience.
"This show captures everything," Williams said. "People see the love, the mistakes that have been made as well as the redemption and restoration."
Williams plays the wife of a construction mogul who is being pulled in every direction and neglects his relationship in the process.
"I don't want to give the story away, but we are sharing our man with so many other people and he may not have the time to be with us," Williams said. "He gets so caught up and he starts forgetting the little things."
Her hope is that "What My Husband Doesn't Know" will bring the idea of moving past mistakes and secrets into the hearts of the audience - and that they have a good time doing it.
"Get ready to laugh, cry and scream 'you go girl'," Williams said. In addition to her stage work, Williams is prepping for an inspirational R&B project to be released in 2012. "It's going to be music with a message - and something amazing," Williams said. "I just want to do something fresh. I'm at an age where I listen to music and think 'does this help me solve anything?' If nothing else, I want to make sure that I have a solution to my music."
In the meantime, she is thrilled to be on the road - and heading to St. Louis - with her latest stage performance.
Get Top Stories Delivered Weekly
More districtchronicles News Articles
Recent districtchronicles News Articles
Discuss This Article