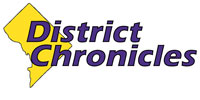 Post Classifieds
Gallaudet Soccer Star Inspires Team
Mid-fielder Leads as a Transfer Student
By Erica Nzei
On October 9, 2003
Erica NzeiSpecial to DC
The crowd jumps to its feet as yet another goal is scored by mid-fielder Michael Higgins. The stadium is filled with roars of joy and chants for Higgins to keep playing, but all he can do is look-on and smile because, he is deaf.
"I see (the crowd) jumping up and down, waving their arms," said Higgins. "This motivates me to play even harder."
Twenty-year-old Higgins transferred to Gallaudet University from George Washington University this year.
"He was on scholarship from George Washington," said Richard Coco, Sport Information Director at Gallaudet. "From my understanding, he felt more comfortable in a deaf community. He attended (a) high school on the Gallaudet campus and felt comfortable here, so he wanted to come back."
Although this is Higgins's first year on the Gallaudet team, according to Coco, he has started all ten games and he leads the Capital Atlantic Conference (CAC) in goals, shots and shots taken. The sophomore from Potomac, Maryland has ten goals and six assists under his belt and has scored two game-winning shots.
"Gallaudet and I have been waiting for that kind of player who will make something happen on the field," said Elijah Gold, coach for the Gallaudet Men's Soccer Team. "He produces goals in almost every game (and) is an all-around play-maker on the field. He doesn't like being defeated."
"He's a terrific player and we're real excited to have him on our team," Coco said. "He's had a great impact on the team."
In an article focusing on another deaf soccer team, the Cincinnati Enquirer website alluded that deaf soccer players have some disadvantages towards soccer players with their hearing ability. Higgins was born deaf and diagnosed profoundly deaf. He has been playing soccer since the age of five and believes as a deaf soccer player, he has an advantage over soccer players who can hear.
"I feel it is an advantage, it forces me to use my eyes even more than a person who might be able to hear his teammates calling out at him," Higgins said, "It forces me to rely on visual cues from others even more, and I need to keep looking around me to see what is happening."
Higgins said he loves soccer and has been playing for fifteen years but doesn't dream of his name on the back of a MLS jersey.
"I love playing soccer; it's my favorite sport, [but], I do not have professional aspirations," Higgins said.
But Higgins is involved in other note-worthy soccer leagues.
"He also plays for a reputable deaf soccer club called D-Fusion team in Maryland," Coach Gold said. "He spent one season with George Washington University before transferring to Gallaudet this season (and) he plays for U.S. Deaf National Team."
Despite his deep commitment to his sport, the young athlete is also involved in several activities at his school.
"He's a very serious player and an excellent role model for some of his teammates," Coach Gold said. "He's also involved with [the] Honor program here at Gallaudet which is another excellent role model for student-athletes."
Although Higgins is not the first transfer student to play on Gallaudet's team, his athletic ability has made him among the school's top players.
"He certainly isn't the first transfer student to have an impact on the team," said Coco. "But he's the biggest we've had so far."
Contact Erica Nzei at district_chronicles@hotmail.com
Get Top Stories Delivered Weekly
More districtchronicles News Articles
Recent districtchronicles News Articles
Discuss This Article