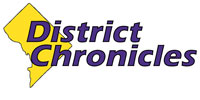 Post Classifieds
Joanna Barnes Makes Leap From High School to College Basketball
By Jennae Wallace
On April 26, 2001
When Joanna Barnes was little, there were no girls her age in her neighborhood, so she played with her big brothers Joseph, now 21, and Jeremiah, 19."I remember her following me down to the basketball court," said Jeremiah. "When we got to the playground, she would only play on my team."
So through the influence of her big brothers, she not only played the sport, but blossomed into a good player. The 17-year-old senior shooting guard at Dunbar High School in Northwest grew to be one of the team's best players surpassing the 1000-point career scoring mark in Feb. 9 against Coolidge High School.
"I didn't know that I had enough talent to play high school ball," Barnes said. "I just wanted to learn to play with my brothers. "I wanted to hang around them. "I didn't start playing organized basketball until eighth grade."
Though she was a late starter, basketball became her life.
She started her high school years at MM Washington School, but the school didn't have a girls' basketball team. Barnes was persuaded by a good friend, and later, teammate, to make the switch to Dunbar.
"Danielle's my dog, she told me to come over here [to Dunbar], to play," said Barnes.
So she switched to Dunbar for her sophomore year and met the coach that would impact her life more than she could have imagined.
During the summer before transferring Barnes worked out with Danielle and her teammates.
"Even after the basketball season he [Coach Walker] helped me get into [basketball] camps and AAU [Amateur Athletic Union] teams," said Barnes.
"He made me actually do something with my life," Barnes said.
Joanna made quite an impact on her coach as well.
"She has a good work ethic. She has had it since day one," said Coach Walker. "She doesn't talk much, but she leads by example."
Much of Barnes' leadership came in the weight room. At 5 feet 6 inches and about 130 pounds, she is rather small for a basketball player, and a shooting guard so that made Joanna work hard in the weight room throughout her career at Dunbar.
"That was a big thing for her," said Walker. "Trying to see who was stronger between herself and Danielle."
Her work ethic and increase in strength paid off.
Barnes was named to The Washington Post All Met Second Team. And in August, she will take the biggest shot of her life, one she never anticipated.
Barnes will start her college career at San Jose State in San Jose, Calif. on a full athletic scholarship to major in sports medicine.
"I was kind of nervous to sign with them, but people encouraged me to explore my options," said Barnes. "I only want to go to school and get my education," said Barnes. "Some people get picky, but I'm like, they pay for me to go to school and do what I want. That's free money."
Barnes will likely make a significant impact on the Spartan team that was plagued with injuries, finished this season 13-16, and has only five or six impact players. Four of those players are currently freshmen. It doesn't hurt that second-year Coach Janice Richard is black and that she once coached for both the University of the District of Columbia and Coppin State, two schools that are close to home for Barnes.
Barnes' family is supportive of her plans to go 3,000 miles across the country. "Whatever makes her happy, then that's what she should do," said her big brother, Jeremiah.
"I was blessed to have my talent," Barnes said. "I don't know if I'm afraid to go to school, but I'm scared to get on the plane," she added with a chuckle.
Next season, area residents will have the pleasure of keeping track of her stats and waiting to see if she'll ever make that final step: The leap into the WNBA.
E-mail Jennae Wallace at rockcity_queen@hotmail.com.
Get Top Stories Delivered Weekly
More districtchronicles News Articles
Recent districtchronicles News Articles
Discuss This Article