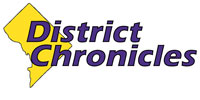 Post Classifieds
Black invention myths unnecessary, some say
Staff Writer
By SUEANN TANNIS
On February 10, 2005
In elementary school, were you ever told that without the contributions of African Americans, many of the things that we use everyday, like the lightbulb or peanut butter, wouldn't exist?If so, then you've probably had those beliefs reinforced by things like the popular email which tells the story of a boy named Theo and his mother trying to exist in a world without Black people.

"Just when they were about to put away the milk, eggs and butter, they noticed the refrigerator was gone," goes the email, which can be found on www.haydennet.com.

But in spite of the wide circulation of such accounts, some researchers are discovering another side to the story.

What's more, according to Dr. Russell Adams, author of "Great Negroes: Past and Present," it's not exactly the whole truth.

Adams, who is also the chair of the Afro American studies department at Howard University, says some of the inventions accredited to Black Americans actually had origins dating as far back as ancient days.

He uses the traffic light, often said to be Garrett Morgan's 1923 invention, as one example.

"[The traffic light] originated at night. The Romans had watchmen on corners with candles," he said. "What Morgan did was to address the arrangement of lights that would enhance scheduled traffic."

But if that's really the case, then why does Morgan receive credit as the sole inventor of the traffic light? Adams says it comes down to a matter of time and know-how.

"A lot of public school teachers don't have the time or the training to follow up and double check," he said. "The kids will take it home and there is no question asked."

Adams also attributes it to what he calls the "me too" syndrome.

"Part of it also is that invention is a sign of intelligence and blacks want to say we are intelligent too," he said.

Gary T. Harris, associate director of the Materials Science Research Center of Excellence and former member of the National Patent Association, agrees with Adams. He says he thinks the important thing is to get the truth out.

"The ideal situation is to tell the truth and to tell it as best as we can, but it may not be as interesting as you expect it to be," said Harris.

For people like Vanessa Joseph, a 21-year-old student who lives in Northwest, honesty appears to be the best policy.

"It's kind of revolting to me. Just being presented the right way would be enough," she said. "Just knowing that we helped improve this thing [an invention] would be enough."

Vladimir Labissiere, a marketing director currently on business in the District, says it's disappointing to learn that African Americans can't claim to be inventors in every instance.

However, he says he's willing to continue believing the stories are true.

"Based on what I learned in the past, I can't let it go," he said. "That's like saying that Martin Luther King Jr. didn't actually start the march [on Washington]."

Shawn Mack, an entrepreneur and an aspiring social worker, says he's particularly upset that students don't get the entire story.

"It's sad being misinformed for so many years. If they take away the little info that's given to them, what would they have to look forward to?" said the 28-year-old.

But even though there are some inventions that African Americans cannot claim as their own, Adams and Harris say there is still a lot to celebrate.

"African Americans have made considerable contributions," said Adams.

However, Adams maintains that it will be hard to undo some of the invention myths that have loose rein in the Black community and schools.

"Some of the myths have been put into the school system as gospel and truth," he said. There are people who will hang on to the myths because they are so comforting.
Get Top Stories Delivered Weekly
Recent districtchronicles News Articles
Discuss This Article